Students Learning With Communities first ever online Annual Awards Twitter Blitz
On Wednesday 6 May the Programme for Students Learning With Communities moved the annual awards event online for the first time. We were delighted to be joined on twitter by so many staff, students and community partners to celebrate the community engaged research and learning projects carried out this year in the curriculum.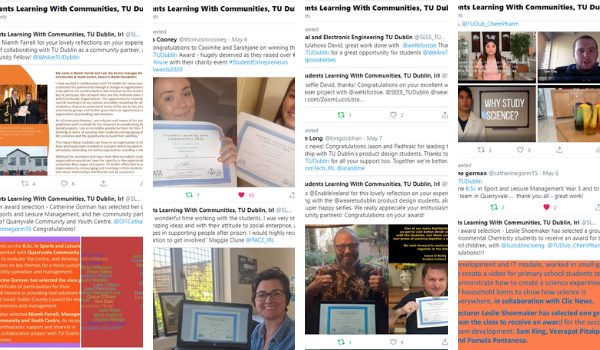 The President tweeted his congratulations, highlighting the benefit of these projects to students and community partners, and the formal part of the event where the awards were announced was followed by lots of tweeting, retweeting and liking.
If you missed it you can catch up on twitter by searching for the @slwcTUDublin feed, and scrolling to 6 May. You can watch short video interviews with students, lecturers and community partners made earlier this year, see selfies tweeted by the award winners with their certificates, listen to snippets of student feedback recorded at last year's annual awards in Grangegorman, and generally be inspired!
View the Award Winners list 2020.
If you're interested in building community engaged research and learning into your work, please contact slwc@tudublin.ie.
Thanks so much to all our colleagues, community partners and participating students, and particularly the team in Public Affairs, for their support for this new and very lively celebration format.