Donor Impact
TU Dublin donors help us to enhance the experience of our students, our staff and our communities. They support programmes providing access to education for marginalised communities, help us to transform our educational facilities and help our communities to develop closer links with TU Dublin.
The invaluable contribution of our donors
The TU Dublin community is very grateful for the support of our donors. The philanthropic gifts that we receive contribute in many ways, such as:
helping to develop the state-of-the-art campus at Grangegorman
supporting TU Dublin to develop new and innovative programmes
providing scholarships to support deserving students
ensuring that students can benefit by using cutting-edge equipment
Philanthropy has a key role to play in leveraging funds and enhancing the resources that can be offered to current and future generations of students.
Thank you to all our donors. The stories in our reports could not be told without your generosity and commitment.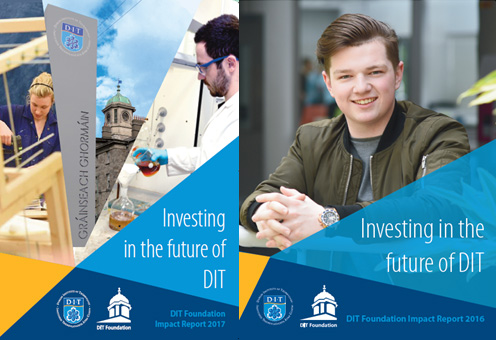 Creating opportunities
The is a one-year preparation course for any student returning to education. It supports students who have experienced educational disadvantage and do not currently meet minimum entry requirements for third-level programmes.
It is a multidisciplinary programme that prepares students for entry into undergraduate programmes in Science & Health, Engineering & Built Environment, Business and Arts & Tourism. Students who successfully complete the programme are offered a place on an appropriate undergraduate course at TU Dublin.
The programme forms part of TU Dublin's commitment to extending access to education to people and groups from areas and communities where there has not been a strong tradition of participation in third-level education. It's of particular benefit to adults who have been out of education for a long time, or who did not complete a Leaving Certificate. In addition we welcome applications from people whose skills no longer allow them to access the labour market.
AFP Students Louise Finnegan and Nkasiobi Uche receiving the Enterprise Rent-a-Car Grant