Multi-Factor Authentication
Multi-factor Authentication (MFA) or Two-step verification is a security feature that TU Dublin is
deploying to protect your account.
Two-step verification is more secure than just a password
because it relies on two forms of authentication: something you know, and something you have with you.
Using two-step verification can help protect your account, as it prevents malicious hackers from signing in to your account if they know your password.
You will only be prompted for MFA when logging in from a device that is not connected to the TU Dublin network
TU Dublin recommends using the Microsoft Authenticator App
To configure MFA using the App
Step 1. Install the Microsoft Authenticator App for Windows Phone, Android or iOS on your mobile device
Step 2. Go to https://aka.ms/mfasetup and sign in with your TUDublin account.
Step 3. Select the method you wish to use for MS to contact you. To set this up, follow the instructions below
Under How should we contact you?, select Mobile app, and chose the option Receive notifications for verification
Click Setup to configure the mobile app
An image similar to the one below will be displayed on your browser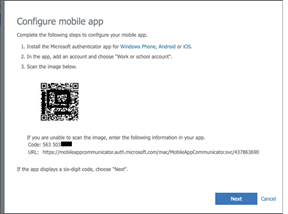 Follow the instructions above by opening up the Authenticator app on the phone, selecting add account, choosing "Work or School Account" and scanning the QR code.
If you are unable to scan the QR code, you can enter in the 9 digit code below the QR code instead.
Once the account has been added to the device, click next.
A notification will be sent to the authenticator app to test it works.
Check your mobile device and select the approve option on the screen.
Depending on the setup of your mobile device, it may ask you to confirm the approval by using your fingerprint or by entering your pin number.
Alternative method
If you do not have a smartphone and wish to receive a text message containing a 6 digit code, please select the option of Authentication by phone instead of Mobile App and follow the instructions on the screen
The video below will show you the steps to set up MFA

MFA FAQ
Get a bit more detail about MFA and find answers to commonly asked questions about it.
Answers to questions about MFA