Supporting local communities to access education: Using the Deprivation Index Score Data to inform policy and proposals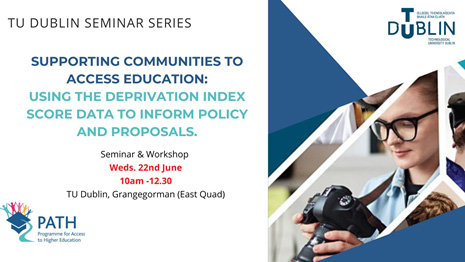 Join us in TU Dublin's Recruitment, Admissions & Participation team for an introductory seminar on the Deprivation Index Score data and how this resource can help us to support communities to access education.
The Deprivation Index Score provides a method of measuring the relative affluence or disadvantage of a small geographical areas, using data compiled from various sources. It is an extremely useful resource for anyone with an interest in social inclusion and supporting access to education.
Event format:
A presentation from the Higher Education Authority to give attendees an introduction to Deprivation Index Score online resource. This will include how to access and use the data that is available, an overview of key findings from the data to date and a profile of the communities adjacent to TU Dublin.
This will be followed by a Q&A
Interactive workshop where attendees can discuss, share and reflect on the practical relevance of the data to their area of work, as well as provide feedback to policy makers in the area of education access.
Who should attend:
This seminar is open to all, but may be of particular interest to:
TU Dublin staff & researchers.
Local community organisations working in the area of social inclusion.
Second level
Community Education
Further Education
Staff in any area of education who would like to understand how to use the DIS data to support funding applications.
Speakers: Caitriona Ryan, Head of Access Policy, HEA. Janice Lau, Senior Statistics Manager, HEA.
The seminar is free, but registration is essential:
Location: TU Dublin, Grangegorman, East Quad Building. (D07 XFF2)
Date: Weds. June 22nd2022
Time: 10am – 12.30pm