TU Dublin Hothouse Learn and Lunch Webinar Series Presents Conor Kenny - U.S. Embassy Dublin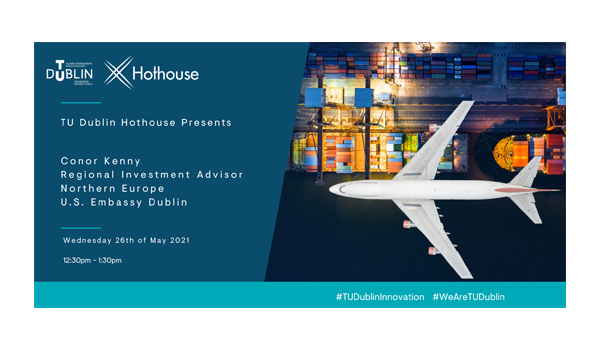 Date: 26th of May 2021
Time: 12:30pm – 1:30pm
Registration: http://bit.ly/ConorKenny_Hothouse
Webinar Topic
This webinar will focus on expanding your business into the U.S. and provide insight and an overview of how to start your export journey. Conor will provide examples and case studies for attendees and also discuss the SelectUSA initiative from the U.S. Embassy, which supports Irish companies looking to establish a base in the U.S.
Who should attend
The webinar is for any person or company interested in exporting their products or services in the U.S. and is looking for assistance in market research, location selection, an overview of the area, incorporation, legal, hiring and more.
Guest Speaker
Conor Kenny; Regional Investment Advisor – Northern Europe at the U.S. Embassy Dublin
Webinar Viewing
The webinar will be available via Microsoft Teams from the link sent to you in your confirmation email. Please click 'Go to online event page' on Wednesday 26th of May on or before 12:30pm.
The United States is the largest destination for foreign direct investment in the world. The SelectUSA initiative showcases the United States as the world's premier business location and provides easy access to federal and state-level programs and services related to business investment. SelectUSA is designed to complement the activities of our states—the primary drivers of economic development in the United States. SelectUSA seeks to highlight the many advantages the United States offers as a location for business and investment. From a vast domestic market to a transparent legal system to the most innovative companies in the world, America is the place for business.
TU Dublin Hothouse is the award-winning Knowledge Transfer and Incubation Centre located on TU Dublin Grangegorman Campus. We are responsible for the commercialisation of intellectual property arising from TU Dublin research. We are the hub of innovation and technology transfer activities and have a range of spinout technologies available to industry across Life Sciences, Food, ICT, Software, Industrial Technology, Manufacturing and Clean Technologies. Our team works with students, lecturers and research teams across TU Dublin as well as with entrepreneurs, industry leaders and investors. Through the TU Dublin Hothouse New Frontiers Start-up Programme, we provide a start-up incubator for innovative and promising start-up companies.