At TU Dublin we have 90,000+ graduates around the world, who are leaders in every industry and walk of life. The Graduate Business School has a thriving alumni network and our graduates work closely with us to design and deliver cutting edge courses, ensuring that they are strongly connected to business and society.
Alumni Profile
Ciarán Byrne (Executive MBA GBS Graduate 2011) is an Executive Director and Global Head of Clearing Transformation within JP Morgan's Corporate & Investment Bank.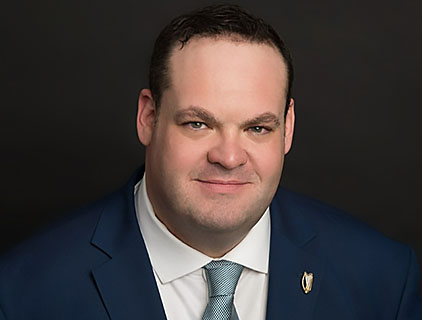 Ciaran, great to see you again. Can you tell me about your role before you joined the MBA course?
When I joined the MBA Course I was working as a Client Delivery Manager at Citi based in Dublin. I wanted to do an MBA as I was looking to advance my career, sharpen my business knowledge and get some hands-on experience outside of my span of control. My employer agreed to support me, so I was all set to go. I decided to do the course while continuing to work – and while a challenging balance act, I was at a good point in my life and career where I was looking to push myself.
We have great Business Schools and MBAs in Dublin, why did you choose TU Dublin?
I did quite a bit of research and of all the schools that I looked into, the Graduate Business Program at TU Dublin just seemed to be the best fit. From the administrative and academic staff, to the experiential learning, to the curriculum – everything was very well designed and you guys genuinely care about your students.
How did the MBA help your personal and professional development?
The course gave me so many opportunities for development both inside and outside of the classroom. I gained a valuable perspective from my class across a wide mix of industries and it also provided me with the opportunity for self-reflection - understanding what I excelled at, what I needed to work on, as well as really discover what I could see myself doing in the upcoming years. The course gave me a lot of opportunities for self-improvement and career building.
How has the MBA helped your Career?
Shortly after graduating I was recruited to a Global Strategy Role with Citi in New York and I even packed a lot of my notes and lessons from the MBA! The course and what I had learned and experienced through it, gave me the confidence to put myself forward and take on this new and exciting role and subsequent roles, including my move to JP Morgan in 2021. The TU Dublin MBA helped to set me on a course of intellectual curiosity and life-long learning which has helped me to continue to grow and excel within my career. I would highly recommend it to anyone interesting in building their career and challenging themselves.