TU Dublin School of Architecture, Building and Environment - Housing Seminar
This seminar will look primarily at the financialisation of housing and the role of Local Authorities in addressing just some of the complex issues that this has thrown up.
This collaborative and multi-disciplinary Housing Seminar Panel Event is coordinated by the School of Architecture, Building and Environment. The Seminar will examine topics such as how the housing crises has evolved, exploring at the following:
How housing has become a commodity

The role of investment trusts in the housing crises

Local authorities and housing

The outsourcing of social housing function from direct build to subsiding the private sector to provide through HAP, Part V, and the Rental Accommodation Scheme (RAS)
The Seminar will also examine innovations in affordable housing, and look to alternative jurisdictions eg social housing in Copenhagen as well as address in co-housing as part of a solution.
Who

is this event for: This online event is for any TU Dublin staff and student as well as interested members of the public.

When

: Tuesday, 6th December 2022, 16:00 – 18:00 GMT

Where

: online

Tickets

: Tickets are limited and must be secured via Eventbrite.
Registration is necessary and can be completed via the QR code below or at Eventbrite.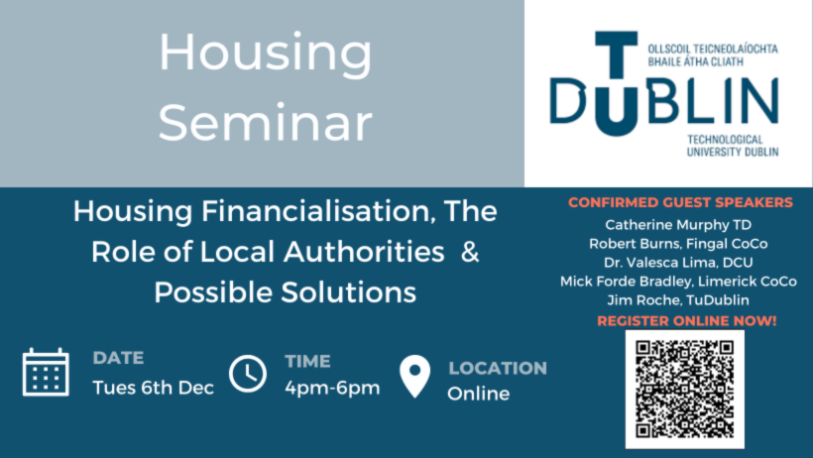 About the Panel:
Catherine Murphy TD is co-leader and co-founder of the Social Democrats. Catherine entered politics over 30 years ago as a town councillor for her local area, following year of community activism on a range of issues. She was first elected to Dail Eireann in 2005 following a by-election in Kildare North.
Catherine is vocal on a wide range of issues, including institutional reform, climate change, planning sustainable communities, affordable housing and fighting for those most vulnerable in our society. She has and continues to be a strong advocate for more accountability in politics and public life. Catherine is vice-chair of the Public Accounts Committee.
Robert Burns is a Director of Service and part of the senior management team within Fingal County Council with responsibility for Housing and Community Development, with responsibility for the delivery of new housing and management of an existing stock of c. 6,000 housing units.
Prior to joining Fingal County Council, Robert was a Director of Service with Dún Laoghaire Rathdown County Council in Dublin, with responsibility for the management and delivery of infrastructure, public realm, active travel and climate action-related project and was responsible for managing the Council's portfolio of property assets. Robert led on the Council's mobility and public realm projects carried out in response to Covid, including the development of 5km coastal mobility route over 3 months in the summer of 2020, as well as village renewal projects in Blackrock, Dundrum, Dalkey and Glasthule. Robert managed a portfolio of capital infrastructure projects worth approximately €500 million and has a wide interest in the fields of local government, housing, climate change, transportation, mobility and town and village renewal. Robert has a breadth of knowledge and experience across housing, civil and environmental engineering, climate action, project management and public policy, with experience in the private, semi-state and public sectors. Robert lectures on a part-time basis in IT Carlow on Civil Engineering and Project Management.
Dr Valesca Lima is Assistant Professor of Political Science at the School of Law and Government at Dublin City University. Her research interest focuses on policy making and governance with three main areas of interest: citizen participation, housing policy and social mobilisation.
Her recent research has been funded by the Irish Research Council and the Housing Agency, on projects relating to housing justice in Ireland and Portugal and migrants barriers to access housing. Her work in the area of housing and urban studies focuses on the financialization of housing, social mobilization for the right to housing and policy innovations for a more democratic and inclusive housing system. Valesca's work has led to several publications in journals such as Housing Studies, International Journal of Housing Policy and City journal. Dr Valesca Lima is currently co-editor of the International Review of Public Policy (IRPP) and director of the charity Women in Research Ireland.
Mick Forde Bradley, an architect and sustainability expert, spent almost 15 years living and working with dense affordable housing projects in Copenhagen as co-owner of ZESO Architects.
He relocated back to Ireland - the ecovillage in Cloughjordan in 2020, with his three boys and Swedish wife, Julia. He joined Limerick City and County Council in September 2020 and is Project Manager for a number of sites in the city being evaluated for the provision of affordable mixed tenure homes. Mick is a qualified DGNB consultant in housing, office, and city planning, and is the co-founder of INSTRAT360, a thought leadership ecosystem for workforce activation, co-creation and visual communication.
Jim Roche is a registered architect and lecturer.
He is a Senior Lecturer in the Dublin School of Architecture and lectures and tutors on the TU831 BSc (Hons) Architectural Technology and TU832 Bachelor of Architecture programmes. He is Module Coordinator and Year Head for third year Technical Design Studio. He also lectures in building technology, tutors architectural design studio, teaches an elective on housing and supervises undergraduate architectural technology and postgraduate MPhil research