His excellency, Stéphane Crouzat, Ambassador of France in Ireland, visited Grangegorman on Monday to join in a celebration for the TU Dublin team that took home seven medals from the WorldSkills competition that took place in Russia last month.
Monsieur Crouzat was particularly pleased to greet Olivier Bal-Pétré, a TU Dublin, Tallaght graduate and French National, that won Best in Nation and Gold medals at the contest, for Ireland. Speaking at the celebration, Ambassador Crouzat said Olivier's win was a true binational story and an example of the great partnerships between Ireland and France. He also spoke of his country's delight to be hosting the WorldSkills competition in Lyon in 2023.
Seven TU Dublin students and apprentices won medals for TU Dublin at the tournament, which saw over 1,300 young people from 63 countries compete in 56 skills across a wide range of industries.
The winning competitors representing TU Dublin were:
Gold Megan Yeates Freight Forwarding
Gold Ryan Dempsey & Luke O'Keefe* BIM
Gold Olivier Bal Petre Cloud Computing
Bronze Adam Flynn IMM
Medallions of Excellence
Cormac Thomas Aircraft Maintenance
Jack O'Donnell Plumbing
Christopher Kehoe Welding
Best of Nation
Olivier Bal Petre
Also representing TU Dublin was Jennifer Mangan who took part in the hugely competitive category of Visual Merchandising against young people from across the globe, including Russia, Sweden, China and India. Congratulations to all the competitors and experts of WorldSkills 2019.
Find out more about WorldSkills 2019 here.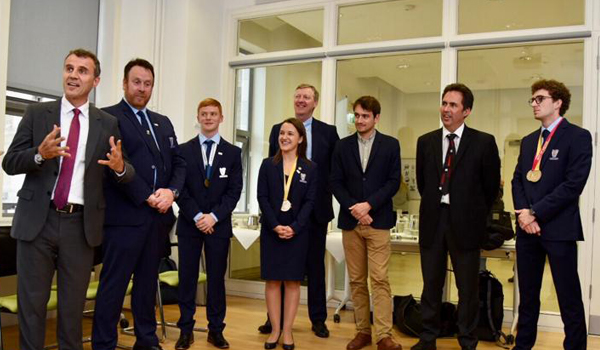 His excellency, Stéphane Crouzat, Ambassador of France in Ireland congratulates the TU Dublin WorldSkills Team.