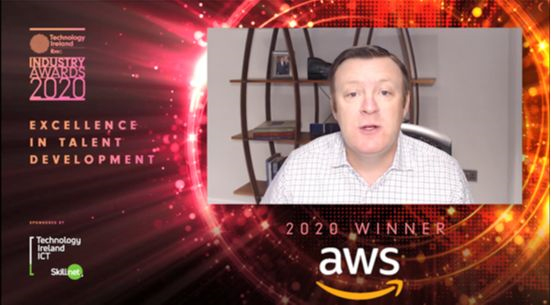 Amazon (AWS) and TU Dublin programmes win the award for 'Excellence in Talent Development' at this year's Technology Ireland (IBEC) industry awards.
2020 will go down in history as a tough year for many, but there are still some shining lights of success which can cheer us all. This year's Technology Ireland industry awards the awards weren't the usual occasion for in-person networking but more a time for reflecting on a job well done.

It was great to see two TU Dublin programmes developed jointly with AWS win the 'Excellence in Talent Development' award, not just because it demonstrates AWS' commitment to Ireland and the local areas in which AWS sits but also because these programmes offer life-changing opportunities to gain knowledge, skills and crucially, paid experience of the ICT industry in Ireland.
As part of their local talent development, AWS has funded full scholarships for programmes to develop Data Centre Technicians (TU Dublin, Tallaght Campus) and for Data Centre Engineer Operations (TU Dublin, Blanchardstown Campus).

The AWS contribution to the success of these programmes is far more than scholarships. AWS input ranges from invaluable periods of placement to jointly agreed on syllabi and participating in programme recruitment. This is real industry collaboration and creates real opportunities for local students. There has been a very strong follow on employment for the graduates of both programmes. Great thanks are due to the initial visionaries Mike Beary, lead for AWS UK and Ireland as well as Cornelia Robinson, Global Lead for AWS in Communities. Thanks are due to many to keep these exceptional programmes moving well including those with a great ground game in Brendan Cannon, Marcin Otto, Kevin Bayliss, Art O Coileain and many more.



#aws #awsincommunities #weareTUDublin #Computing #CloudComputing