Are you interested in applying for a General Engineering course? Then, take a look at a Civil Engineering Project First Year students recently completed.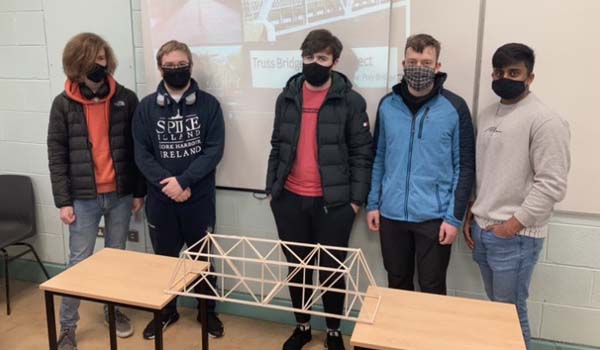 General Entry programmes are a great way to find out what specialism in an area such as Engineering might suit your interests. Recently, first-year students of General Engineering in Bolton Street took part in a Civil Engineering project to design and build a bridge.
The students were presented with a real-life bridge engineering scenario where they had to design and build a bridge to assist refugees after a natural disaster. They were told where the refugees were stranded and were asked to devise a bridge design while keeping in mind the local regulations and resources at their disposal.
Although a large component of the project involved in-depth research into the local building regulations, material availability and region-specific actions (i.e. snow, wind, temperature etc.), students also completed other important, such as presenting a multiple conceptual bridge design options to the client (Lecturer) followed by a feasibility study to choose the bridge option that they would progress to complete a full structural analysis and design on.
On completion of the Structural Analysis and Design for the project, a detailed Bill of Quantities was prepared by the students to ensure a cost-effective and sustainable solution was proposed. The students then had to build a scaled model of their bridge, which was later tested to failure in TU Dublin's Engineering Laboratory. Finally, through a combination of in-person lectures, workshops and design team meetings, the students thoroughly enjoyed the real-life scenario of completing a full design-and-build bridge project.
Lecturer and supervisor for the project Cian Farrell summarised the progress made throughout the process. "The students delivered excellent projects and really committed to trying to produce efficient and sustainable solutions. The blended learning approach adopted for this module has enabled students to both interact as required for the hands-on module but also work and coordinate efficiently in their groups to produce a high standard of work".
Congratulations to Andrew Cotter, Joshua Farrell, Scott O'Byrne, Craig Pritchard, Abin Manoj, and Mateusz Mizgala.
TU Dublin has a range of Level 7 and Level 8 General Engineering courses based on Bolton Street (some classes will take place in Grangegorman) and on our Blanchardstown Campus. Find out more at the links below.
Engineering (General Entry) (TU708)
Engineering (General Entry) (TU709)
Engineering (General Entry) (TU804)