Collen Supports Ireland's First Centre of Excellence in AEC Education with Donation to TU Dublin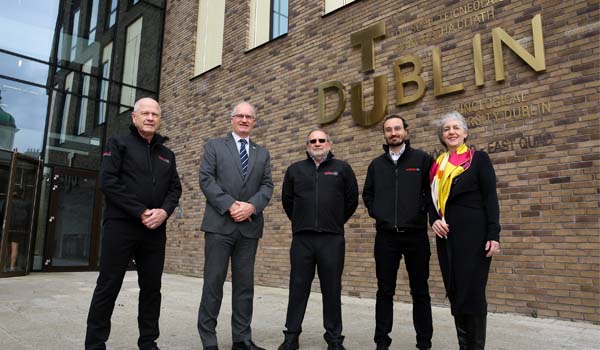 Collen Construction, a family-owned business founded in 1810, has announced a partnership with Technological University Dublin (TU Dublin) to support the development of Design + Construct, a centre of excellence for the Architecture, Engineering and Construction (AEC) sector.
A first for Ireland, Design + Construct aims to support the industry's digital transformation and to embed sustainable learning outcomes in educational programmes from Apprenticeship to PhDs. The five-year partnership will include the opening of the Collen Workshop in Design + Construct to be located in Broombridge, Cabra, bringing together two organisations with a rich history of Building excellence and quality.
TU Dublin is Ireland's largest education and skills development provider in the AEC sector, with over 7,500 undergraduate and postgraduate students, 1,000 trade apprentices and 120 doctoral students. The €22 million Design and Construct Centre is the University's response to the sector's critical skills shortages, but will also address the twin challenges of embedding sustainable and digital-first practices across the industry.
Speaking about the partnership, Neil Collen, Chairman of Collen Construction Limited, said, "We are delighted to join TU Dublin's Design + Construct project, a revolution in Architecture, Engineering and Construction education, which will advance the transformation required by the sector to deliver sustainable and climate-resilient infrastructure. With a combined three centuries of experience in the AEC sector, Collen Construction and TU Dublin both have strong legacies in delivering transformative opportunities for our respective communities of staff and students. We look forward to continuing this tradition by working with TU Dublin to develop educational and training programmes that will deliver varied, successful careers for graduates and the skills required by the Irish construction to remain competitive globally."
President of Technological University Dublin, Professor David FitzPatrick, said, "We are very grateful for Collen's generous support of Design + Construct, which will contribute to the realisation of our ambition to deliver a world-class facility in Dublin 7 for AEC disciplines providing students with practical experience of working in a multidisciplinary team on the entire construction lifecycle. Design + Construct is just one strand of an expansive TU Dublin strategy to develop a new education model which embeds sustainability as a learning outcome across all programmes and produces graduates with the skills required to facilitate sustainable growth in our region."
Read more about TU Dublin's Strategic Intent here.