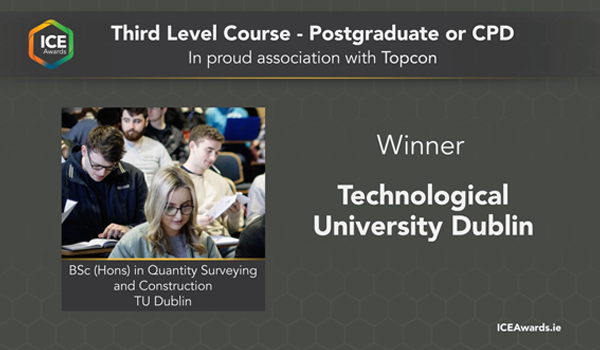 A part-time, earn-as-you-learn programme in Quantity Surveying and Construction Economics at TU Dublin has come up trumps against some stiff competition in the Higher Education Sector to win a prominent Irish Construction Excellence (ICE) Award.
Quantity Surveying and Construction Economics, a part-time programme delivered by the University in Bolton Street, won the Third Level Course – CPD or Postgraduate category at the prestigious ICE awards. Initially introduced in the early 1990s, the course grew in reputation, but following the financial crisis in 2008, the degree was reviewed to more closely align its learning outcomes to industry needs, particularly in the Dublin region.
Working with the sector, TU Dublin completed a significant redesign of the full-time programme with an innovative part-time, earn-as-you-learn work-ready programme emerging with Work-Based Learning built into each year of study. Dr Alan Hore, Head, Quantity Surveying at TU Dublin, explains the creative course content and inventive teaching methods rapidly gained popularity among school leavers, career guidance teachers, advanced entry students and continues to do so in 2020. "TU Dublin, and indeed Bolton Street, has a very proud history in delivering part-time quality higher education and we are confident the course will go from strength to strength into the future. The course was purposefully designed to closely replicate and prepare our students for their Assessment of Professional Competence and achieve their ambition to become Chartered Quantity Surveyors."
Since the course was launched in 2016, the University has received tremendous support from industry and there are 130 students in years one to five currently registered. Congratulating his colleagues, Dr Hore said, "I would like to take this opportunity to offer a special thank you to our former colleague Charlie Mitchell who did Trojan work in promoting the course in person and on social media, building a special rapport with students and strong links with industry contacts. We are indebted to his considerable efforts."
Continuing, Dr Hore, "Also, another word of thanks to Roy Byrne our course chair, and of course, to our present and past lecturing team for their professionalism and wisdom. We are very proud to receive this award, particularly when one considers the high standards of the other programmes and HEIs that were nominated in this heavily contested category."
Other Higher Education Institutions that also submitted courses in the ICE Award category for Third Level Course – CPD or Postgraduate, including Trinity College Dublin, Athlone Institute of Technology, Cork Institute of Technology, University College Dublin and Waterford Institute of Technology.
Read more about the Quantity Surveying & Construction Economics course, including how to apply, here.