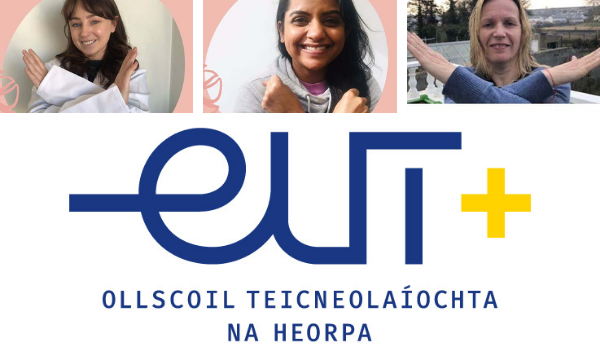 The European University of Technology is celebrating International Women's Day today, and this year's theme is #BreakTheBias. It is an opportunity to call out gender bias, discrimination and stereotyping each time you see it? Will you help us break the bias?
Here's how you can get involved
Join staff and students of all genders across TU Dublin and our European University of Technology partners in a social media campaign in support of International Women's Day.
Strike the IWD 2022 pose and share your #BreakTheBias image or video on social media using the hashtags #EUtPoweredByDiversity #IWD2022 #BreakTheBias, and don't forget to tag us.
IWD 2022 is on Tuesday, 8 March, but you can share your post any day from Monday, 7 March to Friday, 11 March. You can be creative as you like, or if you want to keep your message simple, below are some suggested posts.
Instagram
I will #breakthebias by challenging gender stereotypes, bias and discrimination. #EUtPoweredByDiversity #IWD2022 @tudublin @europeanuniversityoftechnology
Twitter
I will #breakthebias by celebrating women's achievements. #EUtPoweredByDiversity #IWD2022 @wearetudublin @EuropUnivTech
Facebook
I will #breakthebias to help forge a gender-neutral world. #EUtPoweredByDiversity #IWD2022 Technological University Dublin @EuropUnivTech
LinkedIn
I will #breakthebias by calling out gendered actions or assumptions. #EUtPoweredByDiversity #IWD2022 Technological University Dublin, European University of Technology