Fine Art Graduate Venus Patel Wins Top RDS Visual Art Award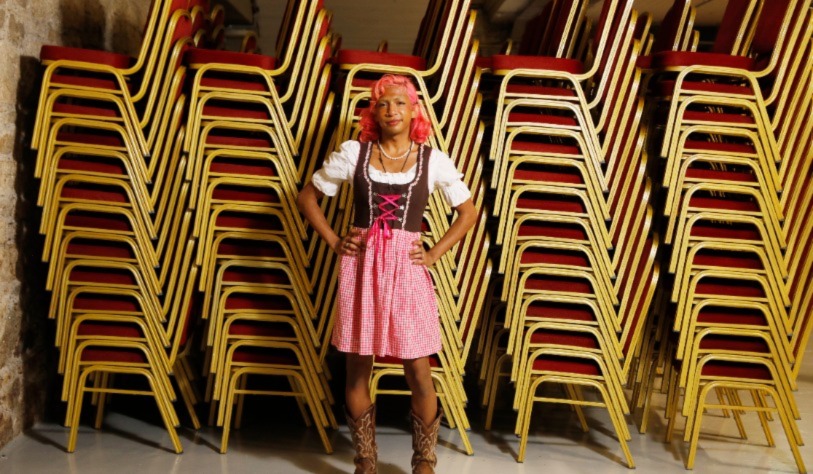 Venus Patel, a Fine Art Graduate from the School of Art & Design at TU Dublin, scoops top prize at the 2022 RDS Visual Art Awards, making her transphobic attack into incredibly beautiful artwork.
Venus Patel graduated from TU Dublin School of Art and Design this year with a first-class honours degree in Fine Art. Venus's practice draws from her theatre and acting background, mixing performance and experimental film. Her work usually stems from her own experiences, rising from questions she has about the world, herself, and how the two interact. As a queer person of colour, she has constantly been othered by society, and it is therefore important for her voice to be heard outside of the white heteronormative society she is so forcefully suppressed by. Venus's work acts as a way for her to process her emotions, which manifest in a complex and dynamic way. The characters Venus creates are all extensions of her own psyche, representing how she navigates the world.
'Eggshells' is an experimental short film that deals with her experience of a hate crime in which she was egged and yelled at. The film is cut into 12 different segments, each focusing on a different character performing with an egg in different contexts. As Venus tries to process the event, the egg becomes its own symbol as it shows her journey of emotions, from sadness to internalized/externalized anger to finally acceptance and growth. The film uses performance, music, and dance in order to tumble through this journey. Venus's references to cinema and theatre create a different feel for each segment of the film. Although her work can be about serious subject matters, Venus still likes to bring in fun and light-heartedness. Darkness exists within the world, but Venus wants to show that there is hope and potential for change.
Commenting on the talent this year, the judging panel, chaired by Mary McCarthy, said; "We were enthralled by the work of the 13 x shortlisted artists, which are included in the 2022 RDS Visual Art Awards exhibition curated by Aideen Barry. We are also very impressed by the ability of this year's RDS Taylor Art Award winner, Venus Patel, to turn a transphobic attack into an incredibly beautiful artwork."
Geraldine Ruane, RDS Chief Executive, said; "The arts are a key component of the RDS Foundation Programme and its mission to make a positive contribution to the cultural and economic development of Ireland. The RDS Visual Art Awards exhibition provides a platform for talented graduates to showcase their work, and in addition, has a total prize fund equivalent of €30,000. It continues a long-standing RDS tradition of supporting emerging Irish artistic talent. The prestigious RDS Taylor Art Award has been presented by the RDS since 1860 and is still one of the most important awards for emerging visual artists in Ireland today."
Aideen Barry, Artist and RDS Visual Art Awards Exhibition Curator, said: "Through a dark mirror, we present to you the contemporary world reflected back at you, the viewer. The artists selected for this year's RDS Visual Arts Awards exhibition represent the best of contemporary emerging Irish visual culture. They offer us a proposition of ideas and musings on the way this generation is navigating the topography of our unsettling world. It is uncertain, it is non-conforming, it is melancholic, at times, humorous and challenging. Prepare to be sucked in".
Several Graduates from the School of Art & Design were shortlisted for this year's RDS Visual Art Awards – read more here.