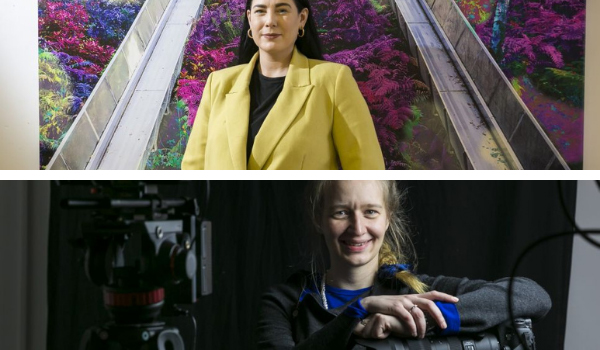 Maria Maarjberg and Michelle Malone, graduates of the TU Dublin School of Creative Arts, have won major at this year's RDS Visual Art Awards.
The RDS Visual Art Awards is the most important platform for visual art graduates in Ireland. It provides vital supports and exposure for emerging visual artists as they move into early professional practice.
Welcoming the news, Ronan McCrea, Fine Art Programme Chair, said, "The Fine Art staff and students are delighted and proud of Maria and Michelle's achievements in this year's the RDS awards. They and their peers have worked incredibly hard in difficult circumstances this year. These awards provide a great boost to morale and important validation for Maria and Michelle and Fine Art at TU Dublin School of Creative Arts."
"In addition to this recognition and financial support, the awards are a valuable opportunity for Maria and Michelle to introduce their work to the network of art professionals and institutions involved in the selection and judging process. We look forward to resuming our annual Graduate Exhibition in the East Quad in 2021, where we can once again showcase the amazing work of our Fine Art graduates."
Maria Maarbjerg was awarded the R.C. Lewis-Crosby Award. Maria graduated from TU Dublin School of Creative Arts with a BA Fine Art degree where she was awarded the Best Studentship Award. Working primarily with photography and performance, her practice revolves around questions of national identity informed by her Scandinavian cultural heritage. Her style favours a nostalgic expression, and is concerned with shapes, lines and textures.
Her photos are all shot on film and deliberately contain imperfections such as blurring, grains and dust, which gives her works an archival and retrospective style. Maria was awarded a Digital Media Award at the Fire Station Artists' Studios where she has just begun her residency. Her end of year work entitled Belonging without Belonging is a 10-minute video piece exploring the housing crisis and life under lockdown.
You can see more of Maria's work here.
Michelle Malone is the winner RDS Whyte's Award. Michelle also graduated from TU Dublin School of Creative Arts with a first-class honour's BA degree in Fine Art, and she is currently undertaking an MA with the School, which is due to move to the East Quad in the Grangegorman campus shortly. Michelle has won several awards including the Fire Station Artist Studio Development Award, the John Creagh Student of Excellence Award as well as awards for achieving the highest studio-grade and most original thesis.
Michelle's practice is informed by her experience of growing up in a working-class area in Dublin's inner city. Through sculpture, installation, audio and photography, she investigates issues about class, taste, belonging, identity and community. Her final year work Summer Project 1997 is a scene-setting installation accompanied by an audio piece that tells the story of a memory of a trip to Clara Lara Fun Park in Wicklow.
You can hear Michelle's work here.