Kaleidoscope 2022: Creative Digital Media End Of Year Show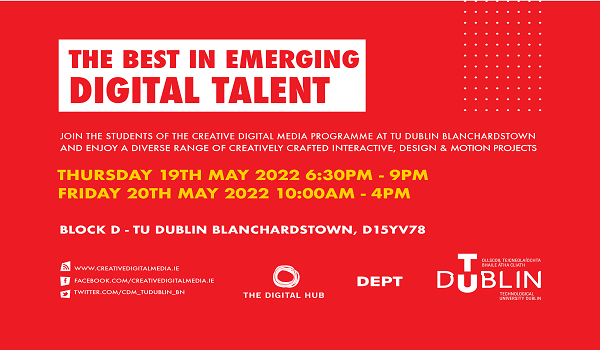 The Creative Digital Media degree based on our Blanchardstown Campus produces graduates well versed in all aspects of contemporary media technology. Our students finish their degrees by delivering final year projects, which typically encompass areas such as web design, animation, mobile app development, User Experience (UX) design, game development, film and documentary production, and emerging media technology.
We have been unable to have a physical show for the last two years, but we are excited to announce that Kaleidoscope 2022 will launch on our Blanchardstown Campus on Thursday, 19 May 2022, at 6:30pm. All are welcome at this opening event hosted by the staff and students, where visitors can experience the project work created by the graduating class. We will also announce the winners of our awards sponsored by our partners at The Digital Hub and the Dept agency. The Digital Hub award was established in 2018, and some of the winning students have exhibited their work there. The Dept Innovation Award, established in 2019, highlights innovative use of design or technology, and the successful student is offered mentorship and support at Dept.
This year, we have a wide variety of exciting and thought-provoking projects, and our students have shown an eagerness to tackle pressing social and environmental issues through their work. There is a particular emphasis on sustainability, with projects that highlight the problems of fast fashion, encourage responsible shopping, and explore the rewilding movement. Other projects tackle diverse issues such as the growing problem of drink spiking, the history of LGBT rights in Ireland and how best to use technology to assist wheelchair users. Unsurprisingly, many of our students also created projects that articulate and reflect upon their experiences of the COVID pandemic. In addition to all this, we have documentaries about leading Irish sports professionals, a game that plunges the player into the Chinese social credit system world, a film about the fascinating phenomenon of Cosplay, and much more …
Please join us at 6:30pm on Thursday 19 May to help us celebrate the work of our students and view some of their outstanding work. The show will also be running all day Friday, 20 May.
Showcase Opening: Thursday 19 May at 6:30pm (D Block, TU Dublin - Blanchardstown Campus)
Showcase Runs: Friday 20 May from 10-5pm (D Block, TU Dublin - Blanchardstown Campus)