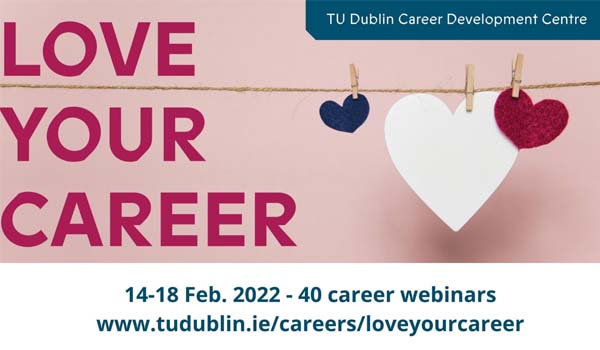 As Valentine's Day approaches, does your career need some TLC? The Career Development Centre is here to help!
We are running a week-long series of webinars to help you wherever you are in your career. Whether you want to know about writing a winning CV, approaching employers, researching your dream job or applying for further study, Love Your Career has a webinar for you! All students from first-year to postgraduate are welcome to join!
We have over 40 webinars to choose from:
The Future of Work - Are you ready? How to adapt to hybrid working - TU Dublin Graduate Business School
Rock your Profile - LinkedIn Ireland
The Power of Networking - TU Dublin Graduate Network
Benefits of Volunteering - Finding opportunities and home and abroad - TU Dublin Volunteering
Making the Most out of a Virtual Internship - UCC
Graduate Programmes - what they are and how to find them
Career Resources for LGBTI+ students
Plus, bespoke sessions for students with disabilities, mature students, international students, creative and STEM students.
New webinars in response to COVID-19: hybrid working, virtual internships, boosting your CV during COVID-19, Challenging times - Staying on track on your career journey
We will also have our popular webinars, including writing a winning CV, how to ace an interview, job hunting, branding, further study, setting up your own business, etc.