Minister Harris welcomes signing of partnership between TU Dublin + Korean Universities during Team Ireland Trade Mission Week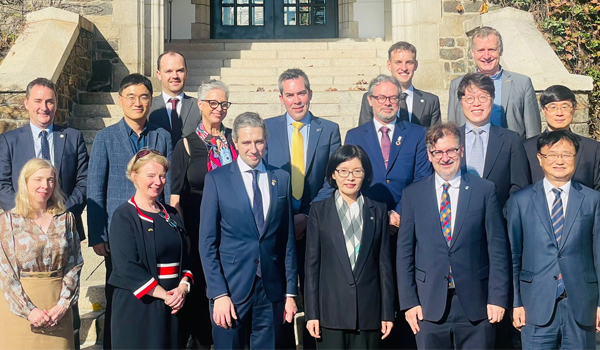 Minister for Further and Higher Education, Research, Innovation and Science Simon Harris has today welcomed the signing of two new partnership agreements between TU Dublin's School of Computer Science and its Korean partners as part of the Team Ireland Trade Mission Week.
The School of Computer Science in TU Dublin will renew student exchange agreements with Soongsil University and Hanyang University for the next five years to 2028. The current student exchange agreement allows participant students from both partner universities to spend a full semester on exchange.
The School of Computer Science at TU Dublin is unique in being the only Irish university delivering Korean Language and Culture classes to Computer Science students in Ireland. Approximately 50 students are currently studying in Korea as part of the TU858 Computer Science degree, which sees students go to Korea in Year 3 of their studies.
TU Dublin School of Computer will agree to renew a joint degree programme with Hanyang University. This is a double degree programme that has been successfully run since 2016 and has involved 40 semester exchanges between universities.
TU Dublin School of Computer Science also has agreements in place with Soongsil University (Seoul) and Kyungpook National University (Daegu) and is developing a new exchange with Chonnam National University, Gwangju.
Speaking at the signing of the agreements, Minister Harris said:
"I am delighted to be here in Korea to witness the signing of these new partnership agreements between TU Dublin, Soongsil University and Hanyang University. During the course of this trade mission I have been so impressed by the breath of collaborations that are happening between our higher education institutions, like TU Dublin, and institutions in the Republic of Korea.
"These people-to-people links, in education especially, provide the foundation on which we build our relationships with international partner countries. It is because of this kind of international cooperation that Ireland and Korea are this year celebrating 40 years of diplomatic relations and I am confident will continue to build on these strong relations into the future.
"These agreements also afford Irish students the opportunity to experience new countries, cultures and grow from the challenges they face living away from the comfort of home; allowing them to develop into highly-educated, resilient, global citizens prepared to enter the international workforce and help to find solutions to the grand challenges of our time. My department remains committed to engaging with our international partners and ensuring our students and researchers have the best opportunities to succeed on the world stage."
Speaking about the partnership agreements, Dr Brendan Jennings, Vice President of Research & Innovation, TU Dublin, said:
"I am delighted and honoured to be here in Seoul for the signing today of our new agreements with our valued partners Hanyang University, Soongsil University, as well as Kyungpook National University who we signed an agreement with yesterday.
"Over almost 10 years, our School of Computer Science has developed a deep and strong relationship with our partner universities which see over 50 TU Dublin students spend a semester in Seoul and over 50 Korean students spend a semester with us in Dublin. These exchanges are transformative experiences for these students, exposing them to new ideas, a new environment, and a new culture, and giving them a new perspective on how they can contribute as professionals to solving complex societal problems.
"In the years ahead, we are looking forward to further deepening and expanding our partnerships to encompass research collaboration and staff exchanges, which will further amplify our mutual commitment to delivering shared impact."
Interested in studying Computer Science? Attend the TU Dublin Open Day in Grangegorman on Saturday, 02 December.