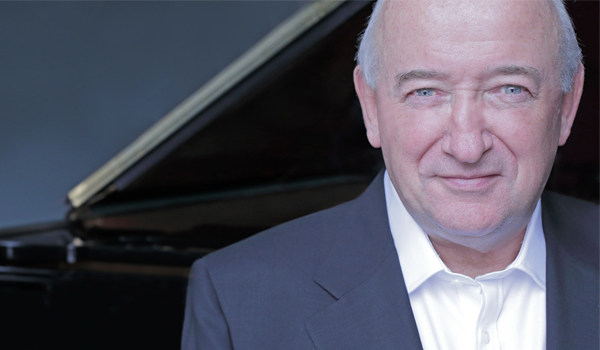 TU Dublin Conservatoire is delighted to announce the appointment of its distinguished former student, the renowned Irish pianist John O'Conor as a distinguished Visiting Professor. Dr. O'Conor will be working directly with advanced piano students in the Conservatoire.
Welcoming him back to the School where his studies began, Head of the Conservatoire Dr. Orla McDonagh said "I am delighted to announce that Irish Pianist Dr. John O'Conor will join us at TU Dublin Conservatoire this year as a distinguished Visiting Artist. Since his days as a student with us in the then College of Music, John has enjoyed an extraordinary career as an international concert pianist, recording artist, competition jurist and sought after pedagogue. Having represented Ireland all over the globe, John will work with piano students at the Conservatoire in a series of masterclass visits throughout this year. We are honoured to welcome him and to provide our young concert pianists with the opportunity to learn from one of Ireland's greatest musicians."
John O'Conor first gained widespread attention in the United States of America in 1986 with the release of his first volume of Beethoven Sonatas on the Telarc label. He went on to record the complete Sonatas, and these were issued as a box set in 1994. CD Review described O'Conor's performances as "recordings of the highest calibre and Beethoven playing at its best" also saying "by now he should be recognised as the world's premier Beethoven interpreter." He went on to make more than twenty recordings for Telarc, including the complete Beethoven Bagatelles, which the New York Times cited as the best recordings of these works, and Mozart Concertos with Sir Charles Mackerras and the Scottish Chamber Orchestra. He has also recorded the complete Nocturnes, Sonatas and Concertos of Irish Composer John Field.
His current position as founder and artistic director of the Dublin International Piano Competition has led to O'Conor's appearance on jury panels of the world's most distinguished piano competitions. For his services to classical music, the esteemed pianist has been decorated with many accolades including the Officier de l'Ordre des Arts et des Lettres from France, Ehrenkreuz fur Wissenschaft und Kunst from Austria, and the Order of the Rising Sun from Japan. In Ireland, O'Conor has received Honorary Doctorates from TU Dublin, the National University of Ireland and Trinity College Dublin, and TU Dublin. He is also an Honorary Fellow of the Royal Irish Academy of Music.
As a Distinguished Artist in Residence, and Professor of Music and Chair of the Piano Division at Shenandoah Conservatory in Virginia, O'Conor also holds a faculty position at the Glenn Gould School of the Royal Conservatory of Music in Toronto where his students have won many international prizes.
Dr. McDonagh says O'Conor arrives at the TU Dublin Conservatoire at a pivotal moment in its 130-year history, "We have been providing music education to students of all ages in Dublin City for well over a century. We are now preparing to move, for the first time, to fabulous purpose-built facilities on our new campus in Grangegorman – still in the city centre, but just on the other side of the Liffey. The practice spaces and especially the performance spaces in the East Quad, right beside the Broadstone Luas stop, will provide opportunities for our students and their teachers to present concerts and events to the public as well as to the university community. It is with immense delight that John will be joining us in this new and exciting chapter."