TU Dublin Hosts University Sports Awards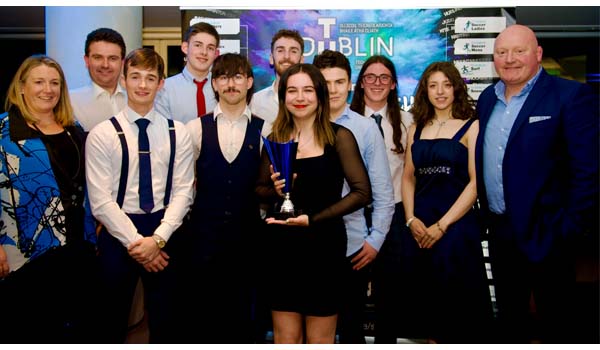 International sporting heroes, Intervarsity titleholders, University sports team players and individual sports stars from across TU Dublin all came together for the University Sports Awards held at the Aviva Stadium in April.
TU Dublin sports staff and academic mentors, sports coaches, club committee members, students, and members of the wider University community joined the guest of honour for the awards ceremony, Bernard Jackman, former Irish & Leinster Rugby Player, Head Coach and Commentator.
This was an exciting and successful sporting year for TU Dublin Sport, both on and off the field of play. This year's awards ceremony recognised the enormous commitment, hard work, and dedication given to the promotion of University Sport and celebrated the success and accomplishments of TU Dublin Sports teams and athletes and the vast range of contributions that committee members, coaches, volunteers, and sports advocates have made to university life.
All-Star awards were bestowed on individual students for their magnificent sporting achievements, including Nicole Turner, an Irish Para Swimmer who won a silver medal at the Tokyo 2020 Olympic Games; George Hadden, an Irish U20 Grand Slam Winner; Roisin McCormick, Ulster Camogie Player of the Year Award and Electric Ireland Third Level All-Star Award winner; and Rachael Darragh, an Irish International Badminton Player. In addition, the Scholar of the Year award went to Cian Hanley, Mayo Senior Footballer, for upholding the University to the highest standards on and off the field of play.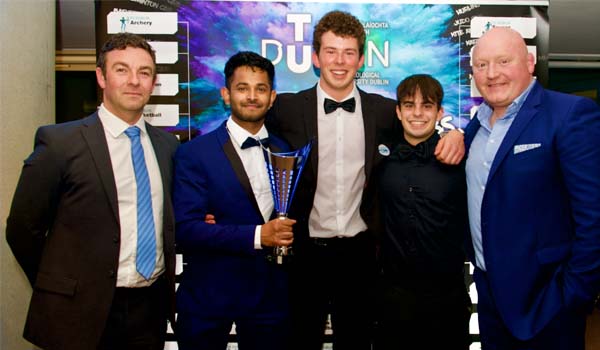 Club of the Year - Surf Club
Awards were also presented to the TU Dublin Senior Camogie Team, who won the Ashbourne Cup, marking the first time a college team has progressed from winning the Second Tier Purcell Cup Championship the previous year to winning the Ashbourne Cup the following year. In addition, the Surf Club won the most coveted and sought-after awards, the most successful, committed, and active club of the academic year.
Other Award Winners on the Night:
Club Executive of the Year – This Award is awarded to the Club Committee member who has shown exceptional administrative and management skills in their respective role on a TU Dublin Sports Club committee.
Christopher Kenny, Surf Club
Campus Sports Team of the Year – This award is awarded to the Campus team that has competed exceptionally in their competition.
Men's Basketball Team, Tallaght Campus
Most Improved Club of the Year – This award recognises the improved success and organisation of a Club and demonstrates a dedication to carrying on this progression for future years.
Outstanding Contribution to Sport - This award recognises the exceptional work of a University community member who has contributed to the student's experience and the overall development and promotion of sport at TU Dublin over an extended period.
Jackie Killoch, University Badminton Coach
Marcus Blake, University Hockey Coach
Fionn McNally, Elite Student-athlete, Irish Kayaker
Significant Contribution to Club Development Award
Lauren O'Hare, Sailing Club

Jamie Clarke, Caving Club

Emma Hughes, Volleyball Club
Congratulations to all! #WeAreTUDublin