TU Dublin Launches Community Garden in Blanchardstown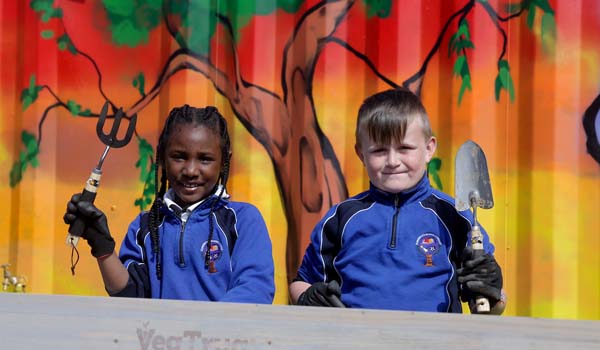 Mayor of Fingal Howard Mahony has opened a new community garden in Blanchardstown today. The 'GLAS @ TU Dublin garden will provide a space for local community groups and schools to grow fresh produce, reconnect with nature, and foster a stronger sense of community.
Located on the grounds of the TU Dublin Blanchardstown campus, the new environmental education and social inclusion project is a collaborative effort between Fingal County Council, Global Action Plan Ireland, TU Dublin and the local community.
The formal opening celebrations were led by the Mayor of Fingal, Cllr Howard Mahony, and included music and a tree planting ceremony. All members of the community in the greater Blanchardstown area were invited to attend and celebrate this exciting new resource for West Dublin.
Mayor of Fingal, Cllr Howard Mahony, said:
"This garden will prove to be a welcome addition to Dublin 15, particularly as it aims to bring people of all ages, abilities and backgrounds together. The beauty of initiatives like this is not just the growing of plants, flowers and vegetables, but that it also provides a great opportunity for local residents to connect, develop new skills and help with people's well-being."
The garden will be operated along organic and regenerative principles and all work - as well as all harvests - are shared between volunteers. The community garden will also be used as a basis for youth gardening projects and public workshops on themes such as growing your own food, composting, water harvesting and waste management.
"The Green Living & Sustainability Community Garden (GLAS) at TU Dublin is a living lab project, focussed on offering communities a hands-on experience to learn about sustainable growing and to participate in establishing our shared environment as climate resilient and biodiversity-rich," said TU Dublin's Vice President for Sustainability, Jennifer Boyer.

"This sunny and sheltered site, which was once home to TU Dublin's Horticulture discipline, is primed for growth with its native tree and hedging boundary. TU Dublin BSc (Hons) Horticulture graduate Lee Geoghegan is the head gardener on site and is delighted to work towards invigorating the garden to its former glory," she concluded.
The GLAS @ TU Dublin garden is based on a template developed successfully by Global Action Plan in Ballymun, where a Dublin City Council-supported community garden is used to facilitate social and cultural inclusion as well as environmental education.
"We are excited to be able to offer this safe and inviting space for members of the communities here to come together, to discover the joys of growing fresh food and learning how to reconnect with nature. Our experience, and academic research, have shown that engaging people in social horticulture provides a unique starting point for people to discover linkages between food, health, biodiversity, and global issues such as climate change," said Hans Zomer, CEO of Global Action Plan, the charity managing the garden.

"We hope the GLAS @ TU Dublin community garden will serve as a place where people of all ages and backgrounds can connect with nature, connect with each other, and discover their power to make a difference."
For more information about the GLAS @ TU Dublin community garden, or to learn about joining the project, please visit www.globalactionplan.ie.