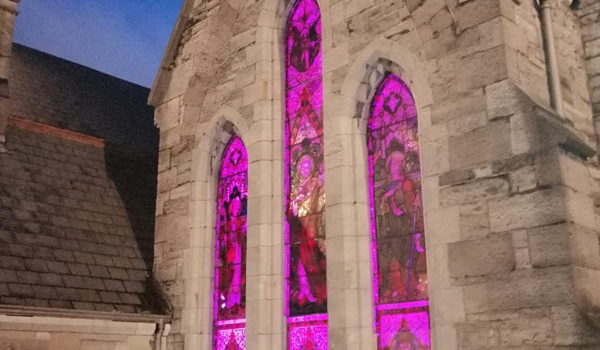 Buildings in TU Dublin campuses were light up in purple on Sunday, 8 November to mark Intersex Day of Solidarity.
The day marks the birthday of Herculine Barbin, a French intersex person whose memoirs were later published by Michel Foucault. Over sixty buildings, including historic landmarks, government buildings and cultural and educational institutions were light up in purple on Sunday, November 8th to mark International Intersex Solidarity Day.
The #IrelandTurnsPurple campaign led by the Intersex Mapping Study at Dublin City University in association with Intersex Ireland aims to raise awareness of and show support for the intersex community, both in Ireland and across the globe.
According to the United Nations (UN), around 1.7% of the global population is intersex. In many countries, intersex children are subjected to unnecessary surgery and treatment to try to make their bodies appear more male or female, causing terrible physical, psychological and emotional pain and ultimately, violating their human rights.
Now in its second year, the campaign is supported by the Minister with responsibility for the Office of Public Works (OPW), Patrick O'Donovan, TD. Historic landmarks and buildings such as the Rock of Cashel, Dublin's Mansion House, Cork City Hall, King John's Castle, Limerick, Rathfarnham Castle, Kilkenny Castle, Dublin City Hall, Liberty Hall and the Phoenix Monument are on a list of over 60 buildings nationwide turning purple.
You can read more about the campaign here.