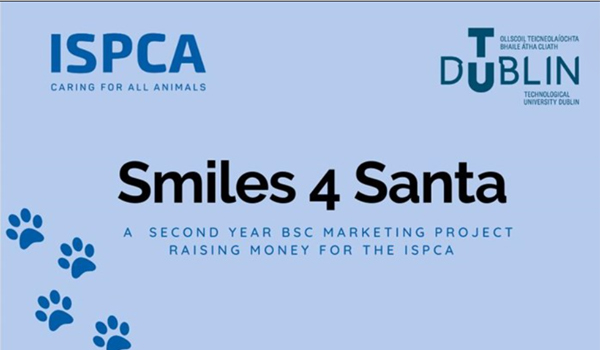 Five BSc in Marketing students in Aungier Street - Brian, Caoilinn, Hannah, Paddy and Zoe - have launched a campaign to raise money for the Irish Society for Prevention of Cruelty to Animals (ISPCA).
The campaign, Smiles 4 Santa launched today, and they have invited members from across the TU Dublin community to get involved and help spread some 'pawsitivity' this Christmas.
During the COVID-19 pandemic, dog sales hit an all-time high. However, a dog isn't just for Christmas or COVID, its for life. The students chose to fundraise on behalf of the ISCPA as they anticipate that there will be a significant strain on the ISPCA's resources as people return to work in the coming months. All money raised will go towards preventing cruelty to animals through helping, rescuing, treating and responsibly rehoming animals.
You can donate to the campaign here.
Are you interested in studying Marketing at TU Dublin? You can find lots of information about our courses, locations and student life at TU Dublin in our CAO Hub.