TU Dublin partners with Ethos Engineering to develop Ireland's leading AEC education facility: Design + Construct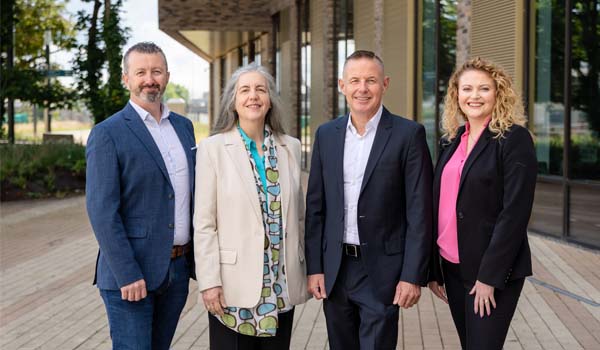 TU Dublin is delighted to welcome Ethos Engineering as partners in a state-of-the-art facility, Design + Construct, which will bring students, academic researchers and industry stakeholders together in a collaborative, transdisciplinary learning environment.
Design + Construct will foster leading industry talent to advance sustainability, digitalisation, modern methods of construction, and construction innovation. As Ireland's first Centre of Excellence for Architecture, Construction and Engineering (AEC) education and research, Design + Construct will help prepare TU Dublin students for life and work in a rapidly changing sector and environment.
The facility will provide many different offerings for students to excel, including upskilling workshops, industry-leading equipment, building performance testing spaces, an "Innovation Showcase," BIM and VR studios, manufacturing and digital production off-site testing and Maker Spaces for the local community and school outreach, among other features.
Welcoming Ethos Engineering as partners, TU Dublin's Orna Hanly said, "Design + Construct is a space for education, research and industry partners to incorporate sustainability principles, smart building, building performance and circularity. We are grateful to Ethos Engineering for partnering with us to build a better, more sustainable future for our students and communities."
TU Dublin's long-held leading education within the AEC sector will be fortified through Design + Construct, furthering their mission of providing talent that will solve the key challenges of 21st-century construction. When complete, the centre will be located in Broombridge, Cabra, representing a €30 million project.
"What better way to support and nurture the growth of our future talent in the construction industry than by investing in their skills and supporting a leading education in this field," Alison Heffernan, Ethos Engineering's Head of People, said. "Investing in our people is a priority in delivering industry excellence, so we are delighted to expand that mission by preparing TU Dublin students for a promising career ahead."
Greg Hayden of Ethos Engineering continued: "Ethos' support of Design + Construct will benefit not only the students, but also our organisation and the future of Irish construction. It is incredible to have had a role to play in this, and we are so excited to see what the future holds for tomorrow's talent."