TU Dublin Signs Anti-Racism Principles for Higher Education
Technological University Dublin (TU Dublin) has strengthened its commitment to building an anti-racist and intercultural university with the signing of the Higher Education Authority (HEA)'s Race Equality Anti-Racism Principles for Irish Higher Education Institutions.
The principles seek to challenge race inequality across higher education, and in signing, TU Dublin actively acknowledges that race inequality exists in higher education and has the power to address racism within the sector and society.
The signing follows the publication of the University's Race Equity Plan, which aims to build an intercultural university that is anti-racist and facilitates a true sense of belonging and empowerment for all members of the university community. A key output of TU Dublin's Race Equity Plan was the establishment of a Race Equity Community of Practice in 2021, which is working to develop TU Dublin's racial literacy, build fluency in the four dimensions of discrimination, and actively and constructively address harm and discrimination.
Dr Philip Owende
Speaking at an event to mark the signing of the HEA Anti-Racism Principles on the University's Tallaght Campus, Dr Philip Owende, Co-Chair of the Interculturalism and Race Equity Working Group at TU Dublin, said, "Ethical governance and fair leadership shall guide our way and ensuring that equality prevails and justice is our defender. In lecture halls and corridors, in workshops, labs and sports, let respect be our guide. Through open hearts and open minds, let prejudices diminish, for in the embrace of diversity, we find our true grace; a symphony of voices and colour, painting a vibrant academic ecosystem. Let us walk this path, with purpose and grace, creating a haven where all find their place and thrive."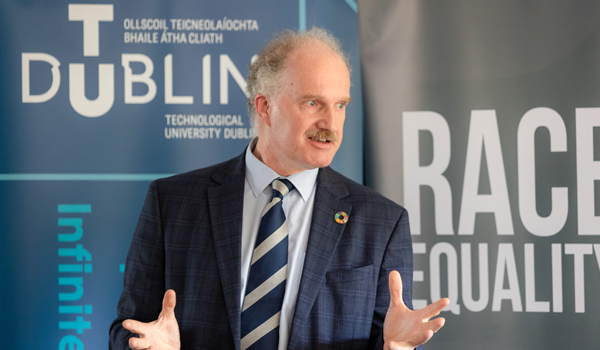 Prof. David FitzPatrick
Professor David FitzPatrick, President of TU Dublin, added, "Our signing of the HEA Anti-Racism Principles underpins our commitment to implement structural changes that will adequately combat racism and also offers each member of our University community the opportunity to reflect on their role in delivering an inclusive environment that fully harnesses the power of diversity of thought, culture, and experience in Higher Education."
The HEA Anti-Racism Principles were created to embed a culture of race equality across higher education following a significant shift within the sector from largely nationally focused institutions, catering primarily to school leavers, to internationally connected institutions with diverse student bodies. The six principles were developed through careful consultation with higher education stakeholders and the expert advice of the Athena Swan Ireland Intersectionality Working Group, which is working to establish a cross-sectoral approach to collecting data on staff and student ethnicity in Higher Education.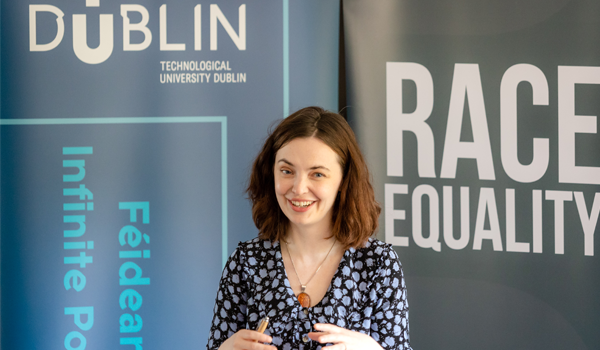 Dr Jennie Rothwell, Centre of Excellence for Equality, Diversity and Inclusion, HEA
By signing the HEA's Race Equality Principles, TU Dublin commits to:
Embed a commitment to race equality as part of our institutional culture and strategic priorities.
Highlight the structural, institutional, and historical dimensions of racism which have informed past and current practices in HEIs and the societies in which they are situated.
Educate the staff and students in relation to the structural, institutional, and historical dimensions of racism, as well as the more commonly recognised individual racism seen in acts of discrimination and abuse.
Encourage an open dialogue on advancing Race Equality.
Adopt an intersectional and intercultural approach when developing anti-racism actions and policies.
Address questions of race equality within the institution's strategic plans.
Record student and staff data disaggregated by ethnicity to inform the HEA's anti-racism policies and actions, and monitor retention and career outcomes for students and staff from ethnic minority groups, including Travellers.
Continue to ensure a fair and transparent recruitment process for all staff, regardless of ethnicity.
Address race equality issues in relation to the progression and retention of students and staff from minority ethnic groups, including Travellers.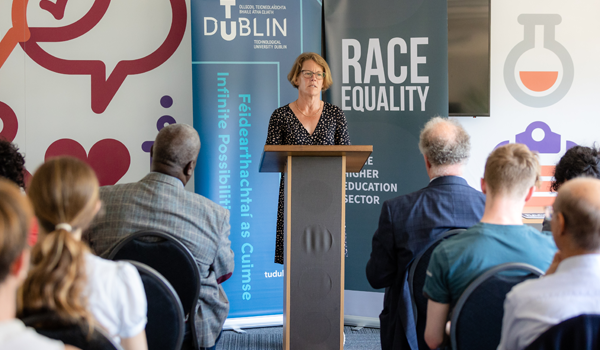 Dr Bríd Ní Chonaill speaking about TU Dublin's Race Equity Community of Practice
TU Dublin's commitment to actively fostering an inclusive, diverse, safe and respectful institutional culture is embedded in TU Dublin Strategic Intent 2030, which is informed by Sustainable Development Goal 4 - 'ensure inclusive and equitable quality education and promote lifelong learning opportunities for all.' Central to achieving the University's EDI-related strategic goals is the Race Equity Plan, which is available to read on our website.