TU Dublin Signs Declaration of Intent With Normandy Higher Education Institutions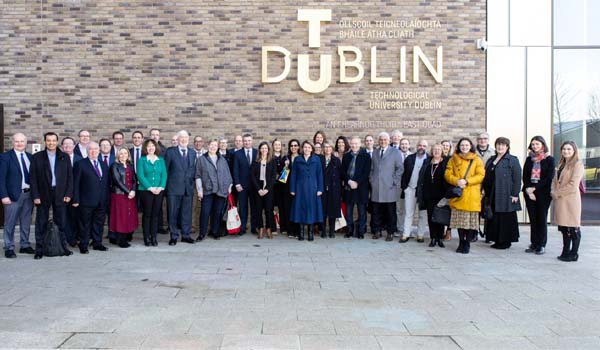 Irish Higher Education Institutions, including TU Dublin, gathered in Grangegorman today to sign a Declaration of Intent to deepen their collaboration across a range of themes benefiting staff, students and researchers in Irish and Normandy higher education institutions.
Deputy President and Registrar of TU Dublin, Dr Mary Meaney, also signed a Memorandum of Understanding with one of Europe's top business schools EM Normandie. In the face of the transformation of society and the new challenges of digital technology, TU Dublin and EM Normandie will put their know-how in pedagogical and digital innovation at the service of student training through the exchange of professors, researchers and academic staff.
The declaration signed today on TU Dublin's Grangegorman Campus on behalf of Normandy higher education institutions and Irish technological universities and institutes of technology results from intensive engagement. The initiative aims to explore and foster mutually beneficial partnerships and priority-focused activities to support regional economic development through actions including the Mobility of doctoral students and establishment of co-supervised theses, Short-term student mobility, and Staff mobility.
The thematic areas of interest for Irish-Normandy cooperation include:
Climate agenda, energy transition and sustainable cities
Maritime economy - Blue Economy
Transition, hazards and multi-risks
Agriculture, nutrition and veterinary sciences
Engineering and digital transformation
Bioengineering, biochemistry and pharmaceuticals
Business, management and entrepreneurship
Arts and humanities
Speaking at the signing, Minister Collins, Minister of State at the Department of Further and Higher Education, Research, Innovation and Science with responsibility for Skills and Further Education, said:
"The establishment of new Technological Universities in Ireland has been increased over the past two or three years. Similar to the institutions in Normandy, they are rooted in their regions, designed to act as a centre of excellence for education, skills, applied research and innovation. However, this does not take away from the global context in which they operate. The global exposure by building relationships such as these here today are a central part of this."
President of the Normandy Region, Hervé Morin, who visited Dublin for the signing of the Declaration of Intent, said:
"Normandy has a research potential of excellence: 2,200 doctoral students in 8 doctoral schools, 4,300 lecturers and researchers in the Universities of Caen, Rouen and Le Havre, and 150 research structures, 40 of which are associated with major national research organisations (CEA, INSERM, CNRS, etc.). To strengthen its attractiveness, the Normandy Region has been mobilising more than 450 million euros since 2016 in favour of higher education, research and innovation, via a proactive policy, turned towards the international scene and shared with all the players in higher education and research establishments; universities, engineering schools, Grandes Ecoles and the major research organisations. It is reflected today in the signing of this memorandum of understanding, which I am delighted about, and which will enable Normandy to strengthen its potential for training and research excellence. These pilot teaching and research projects will enrich cooperation between Normandy and Irish institutions."
Commenting on this gathering of Normandy and Irish institutions and the links that are being forged, Dr Joseph Ryan, CEO of the Technological Higher Education Association, said:
"This is a great opportunity for our Irish technological universities to forge alliances for the benefit of staff and students. France is now Ireland's closest neighbour in the European Union, and we share strong political and economic links, heritage, history and many cultural specificities. We look forward to exploring these and other pilot initiatives to create international cross-cultural opportunities for students, staff, researchers and institutions themselves."
Irish higher education institutions party to this declaration of Intent:
Technological University Dublin (TU Dublin)
Munster Technological University (MTU)
South East Technological University (SETU)
Technological University of the Shannon (TUS)
Atlantic Technological University (ATU)
Dundalk Institute of Technology (DkIT)
Dún Laoghaire Institute of Art, Design and Technology (IADT)
French higher education institutions party to this declaration of Intent:
University of Rouen Normandy
University of Caen Normandy
University of Le Havre Normandy
EM Normandie
UniLaSalle
ESADHaR
ESIGELEC
INSA Rouen Normandy
NEOMA Business School
ESAM Normandie
Builders School of Engineering