TU Dublin Smarter Travel Survey 2022 Results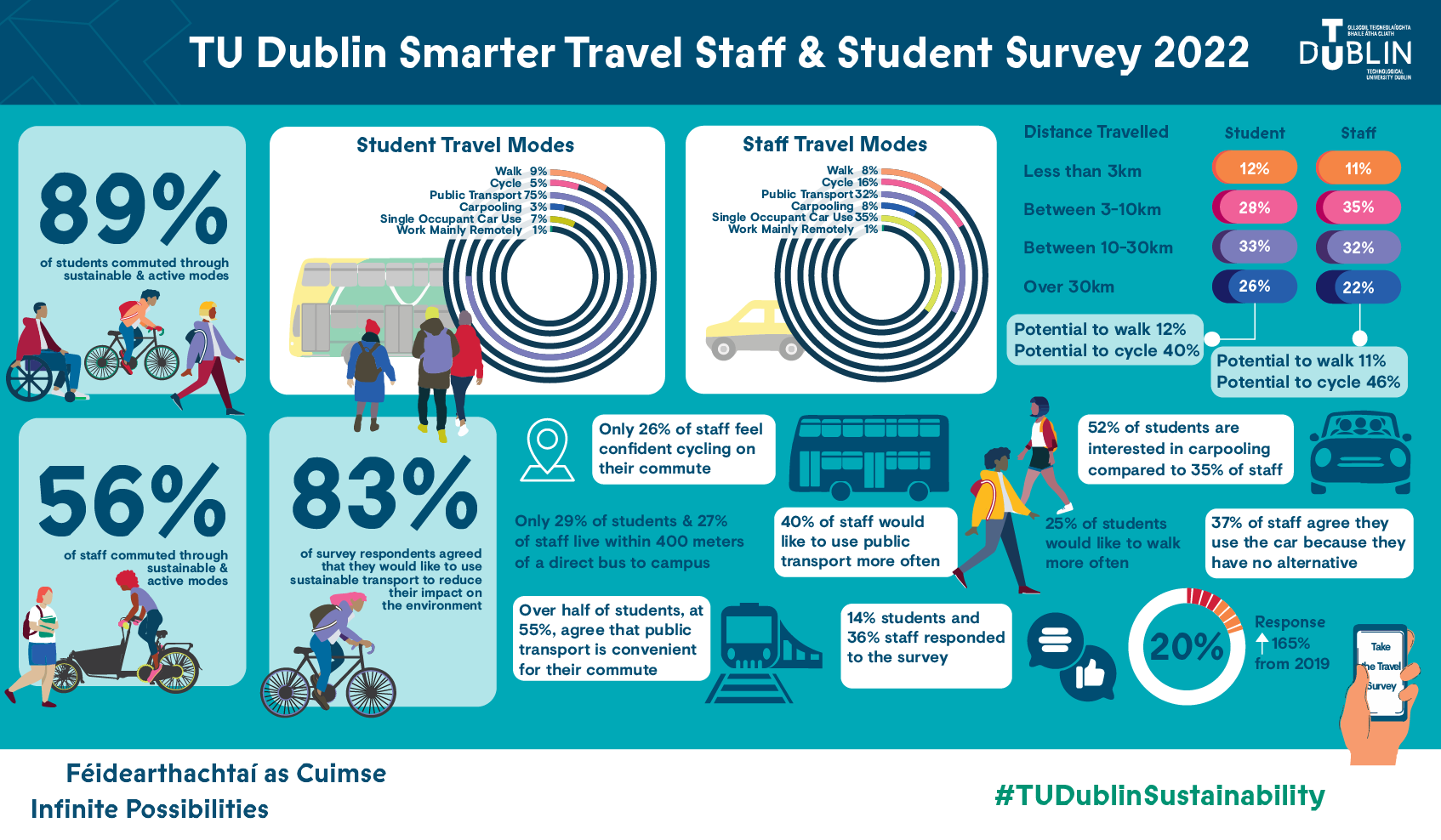 A newly published Technological University Dublin (TU Dublin) report reveals interesting new trends on travel to the University in a post-Covid environment. The TU Dublin TFI National Transport Authority TU Dublin Travel Survey 2022 results showed that an impressive 89% of students and 56% of staff travel to campus by sustainable and active travel modes.
TU Dublin Sustainability Action Research and Innovation Lead, Dr Lorraine D'Arcy, who developed the statistical analysis said:
The survey shows that an impressive 20% of staff are arriving by bike to campuses based in Dublin's City Centre. This rate of cycling to work is significantly higher compared to NTA data which shows that the modal share of morning commutes by bike in the city has averaged at 6% since 2020. This city percentage is comparable to the proportion of students cycling to campus (5%).
Dr D'Arcy explains that:
Ten percent of trips crossing the canals are on foot and this is comparable to the walking trips taken by students nd staff. Figures show a 2.3% increase of students walking to campus from 2019 (6.7%) to 2022 (9%). However, the survey results found 25% of students would like to walk more often.
Between February and May 2023, TU Dublin conducted a Travel Survey Feedback Roadshow to 20 staff and student leadership groups across the University. This roadshow served to feed back the results of the data collection and to note what data was most interesting to support more students and staff to travel sustainably to campus. This week TU Dublin is launching a sustainable travel awareness campaign to promote the results of the Travel Survey report.
Speaking of the campaign, TU Dublin's Vice President for Sustainability Jennifer Boyer said:
Key to motivating staff and students to travel to campus more sustainably is to show the potential rate of active travel to campus from their localities. Based on the data, we have created heatmaps radiating out from each of our three campuses showing the average time it takes to arrive to campus by bike. Together with local authorities and the NTA, we could potentially we could support up to 12% of staff and students to walk to campus and up to 46% to arrive by bike.
As part of actions outlined in the recently published TU Dublin Climate Action Roadmap. TU Dublin is endeavouring on an ambitious plan to support more students and staff to arrive to campus by sustainable and active travel.
TU Dublin Climate Action Roadmap