TU Dublin Spin-Out Micron Agritech Secures €2.7 Million Funding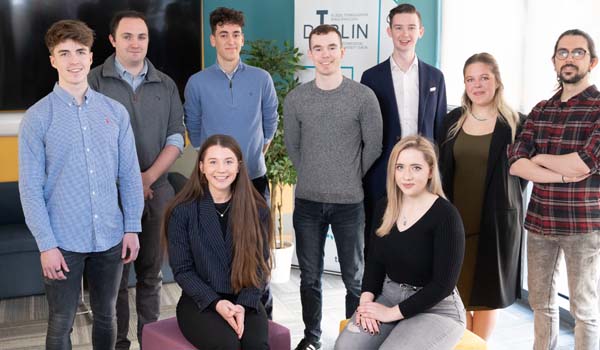 Micron Agritech, a TU Dublin Spin-Out agricultural technology company, has raised €2.7 million in funding co-led by ACT VC, Atlantic Bridge and Yield Lab Europe, positioning itself for further expansion in both the Irish and UK markets.
With a cumulative funding of €5 million to date, the spin-out from TU Dublin is dedicated to revolutionising rapid animal health testing through the innovative use of AI technology in its Micron Kit.
Founded by TU Dublin students Daniel Izquierdo, Tara McElligott and Sean Smith in 2019, the Micron Kit allows veterinarians to conduct on-site, rapid parasite testing on animals using their mobile phones, delivering results in minutes. The platform's core mission is to combat the increased resistance to anti-parasiticides and reduce the agriculture sector's unnecessary reliance on worm treatments. Micron Agritech is also keen to protect the limited medicinal arsenal currently in place to combat these diseases while monitoring the prevalence of resistance on farms in Ireland and the UK. The team believes this approach will drastically reduce the time, cost and resources expended on dosing methodologies while amplifying farm efficiency through the strategic deployment of AI technology.
Currently, it can take up to five days to receive the results of laboratory tests confirming the presence or absence of internal parasites, prompting many farmers to administer treatments without conducting prior testing; many choose to give a blanket 'dose' to the herd. This practice has contributed significantly to complications such as anthelmintic resistance - already rendering some modern medications useless - which is a major cause of concern for the European Union and the UK.
Speaking on the investment, Daniel Izquierdo, CEO and Co-founder of Micron Agritech, comments: "We are thrilled to have the support of ACT, Atlantic Bridge, Yield Lab Europe and our other investors as we continue to grow and expand our cutting-edge platform, which we aim to revolutionise how animal health is managed globally. Our goal is to make our platform accessible to vets across the globe, starting with penetration across the Irish and UK markets, which will combat the build-up of medication resistance, while giving farmers and vets tools to monitor animal health, improve the lives of their animals while increasing productivity."
Principal at ACT VC, Andrew O'Neill, comments on the investment: "The team at Micron Agritech have big ambitions to transform animal health through AI, drive efficiencies for vets and ultimately deliver better yields for farmers. We are delighted to be partnering with Daniel, Tara, and Sean."
Dominik Leisi, Senior Investment Associate at Atlantic Bridge, also says: "We are delighted to support the Micron Agritech Team on their mission to use AI-powered computer vision to revolutionise animal health and increase food sustainability. Since spinning out from TU Dublin, Tara, Daniel, and Sean have built an excellent foundation on which to expand internationally to address the huge issue of overuse of anti-parasitic medication."
"We've been working with the Micron team since 2020, and are happy to make a further investment in the company. We look forward to working with ACT and ABV and further supporting the Micron Agritech team in the next phase of their journey and mission to decrease the misuse of medication in animals", adds Daan Wilms van Kersbergen, Investment Director at Yield Lab Europe.
A recent report from the IFA Animal Health Council in July has highlighted the need for additional support for farmers about parasite control. Internal parasites remain a prominent health issue among grazing animals, contributing to a 33% increase in agricultural emissions and reduced animal yields. While some financial support is accessible through the
TASAH Parasite Control program, Micron Agritech, suitable for use with the TASAH scheme, holds the potential to alleviate the challenges associated with parasite management and the build-up of resistance currently confronting the animal health sector. Simultaneously, their innovative solutions can improve farmer income, by saving precious time, money and resources.