TU Dublin Sport Wins Top National Award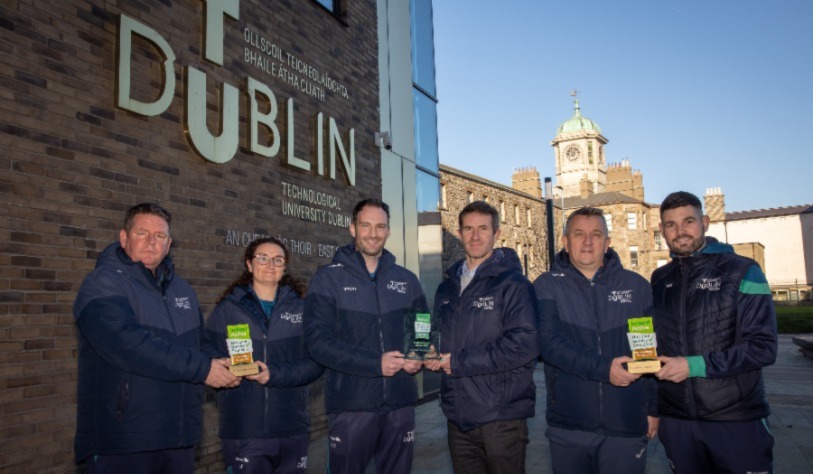 TU Dublin Sports facilities in Grangegorman and Broombridge were recently presented with two Outstanding Awards for the National Quality Standard (NQS) from Ireland Active, the governing body for Sports & Leisure Facilities in Ireland.
In addition, TU Dublin Sport was awarded the Most Improved Facility for 2022 for Broombridge. These are the highest possible award within the industry and a great achievement for the TU Dublin Sports staff facilities team.
Speaking about the award Derrick Crowley, TU Dublin Sport NQS Coordinator said:
We are delighted to achieve the Outstanding NQS Award again for both our facilities. Although we have received the highest possible award, each year we strive to continuously improve on the previous year. We would not be able to achieve this award without our exceptional team, who are always there to deliver the highest standards and service to our customers all year round
Both facilities went through a rigorous audit in August of this year with no stone left unturned. Facilities are assessed across 250 quality-based criteria in four main areas – Safety, Hygiene, Customer Engagement, and Human Resources. Each category has a minimum compulsory standard of 'Achieved', followed by 'Exceeded' and 'Outstanding'. The award is designed to ensure facilities are focused on delivering a high-quality standard within their operation and to encourage continuous improvement within the industry. The NQS is the most sought-after and respected accolade in the Leisure, Health, and Fitness sector in Ireland.
Echoing comments made by Derrick John O'Carroll, TU Dublin Sports Facilities and Development Manager said;
Once again I would like to congratulate the Sports Facilities Team for achieving the outstanding award for both Grangegorman and Broombridge and bringing home the most improved facility award for Broombridge. These fantastic achievements are a testament to the hard work carried out by the team to reach the highest possible industry standards. This is the fifth consecutive year TU Dublin has achieved the outstanding award and ranks TU Dublin Sport in the top 10% of facilities in the country for this quality-based audit