TU Dublin Sustainability 2023-2024 Academic Year Welcome
The Sustainability Team at TU Dublin is delighted to welcome new and returning students to campus for the start of the 2023-2024 Academic Year.
Our ambition for this academic year is to provide increased support across the University for the transformative change required to develop responsible global citizenship, the cultivation of a resilient and ethically conscious community, and for the decarbonisation of our campus environment.
Together, with the support from students and staff, we will work to advance sustainability literacy skills among our people, promote awareness with campaigns, and create opportunities for knowledge sharing and participation through engaging activities throughout the year.
Find an event, campaign, or initiative on the TU Dublin Sustainability Calendar and get actively involved in sustainability and climate action during your time here at TU Dublin.
TU Dublin Sustainability Calendar 2023-2024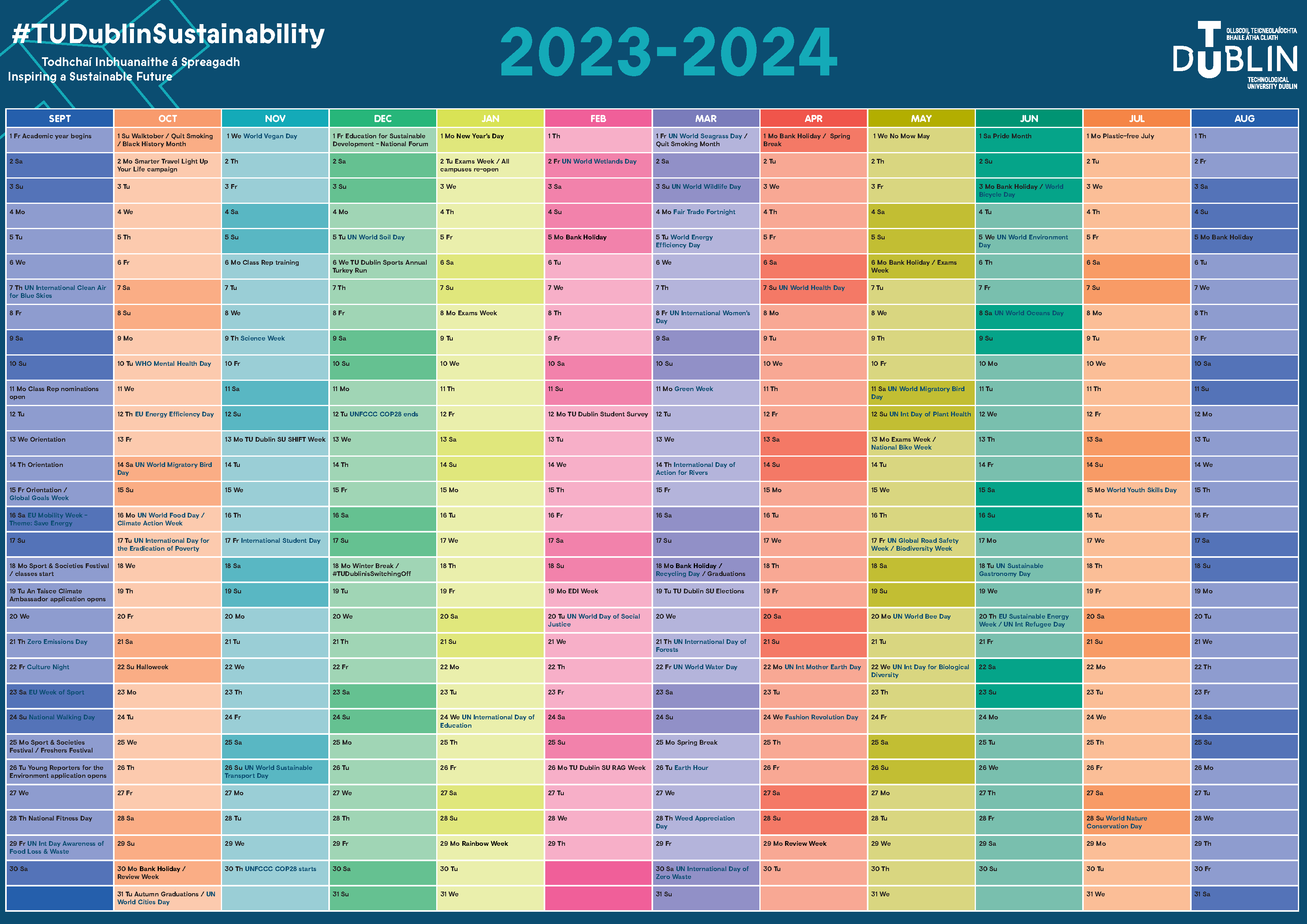 Taking place during September, the events lined up for Orientation, Freshers Week, and the Clubs and Societies Festival, presents an opportunity for students to get involved in new activities at TU Dublin.
Orientation
As part of Orientation the Sustainability Education Team are leading on a host of immersive sustainability and climate action activities, designed to instil passion, purpose and capacity building among incoming students. Students will be introduced to the many sustainability initiatives taking place at TU Dublin and learn about opportunities to get involved in social justice and climate action.
From 2023, all incoming first-year students will undertake a short course on Sustainability & Climate Action, as part of the Student Success module on Brightspace. Here, students will engage in education for sustainability, learning about the dimensions of sustainability, the United Nations (UN) Sustainable Development Goals (SDGs), and how to cope with anxiety related to the climate crisis.
With almost 35 Sustainability & Climate Action events and learning opportunities taking place during Orientation, students will have an opportunity to help progress the UN SDGs, with a particular focus towards achieving SDG 4 Quality Education, SDG 13 Climate Action, and SDG 17 Partnerships for the Goals. Check out the Sustainability Orientation 2023 page for details and how to get involved.
Clubs and Societies Festival
The Sustainability Office will be hosting a stand during the Clubs and Societies Festival - visit the stand to learn more about how you can get involved in sustainability themed programmes and initiatives such as the Healthy Campus programme, the Green-Campus Committee and the Smarter Travel for Campuses programme.
In timing with the Clubs and Societies Festival, we will be raising awareness of European Mobility Week at each of our campuses.
Dates for your diary
September
October
Walktober
Quit Smoking Month
Black History Month
Monday 02 October - Smarter Travel #LightUpYourLife campaign
Tuesday 10 October - WHO Mental Health Day
Thursday 12 October - EU Energy Efficiency Day

Saturday

14 October - UN World Migratory Bird Day
Monday 16 October - UN World Food Day
Monday 16 - Sunday 22 October - Climate Action Week
Tuesday 17 October - UN International Day for the Eradication of Poverty
Tuesday 31 October - UN World Cities Day
November
Wednesday 01 November - World Vegan Day
Thursday 09 November - Science Week
Sunday 26 November - UN World Sustainable Transport Day
Thursday 30 November UNFCCC COP28 starts