TU Dublin Welcomes Funding Announcement for 9,277sqm of New Higher Education Facilities for Blanchardstown and Tallaght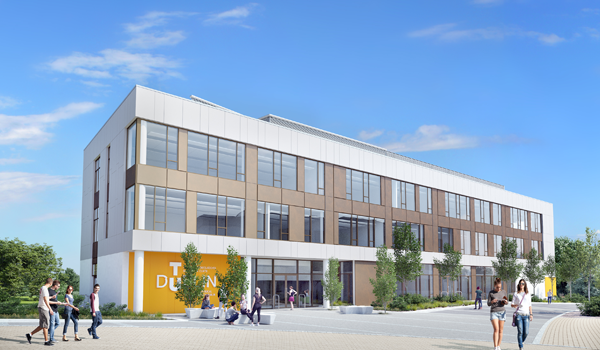 TU Dublin is delighted to welcome an announcement by the Minister for Further and Higher Education, Research, Innovation and Science, Simon Harris T.D., that Bundle One of the Higher Education Public Private Partnership (PPP) Programme has reached financial close.
Bundle One of the Programme, which includes six projects at higher education institutions across Ireland, will deliver two state-of-the-art educational facilities on the University's Blanchardstown and Tallaght campuses.
Speaking today, Minister Simon Harris said:
"This is a really important development in higher education.
"The construction of these buildings on multiple campuses across the country will improve the educational experience for current and future generations of students.
"It also represents an important milestone in the government's Higher Education PPP programme and illustrates a commitment to investment in the higher education sector.
"We look forward to the construction progression of each of these six buildings over the coming years and look forward to welcoming the first students to the new buildings. The future is bright
TU Dublin, Tallaght Campus
This week's announcement by Minister Harris has given the green light to progress the building of a c.5,200 m2 multi-disciplinary building in Tallaght for teaching and research in hospitality, culinary arts, engineering and apprenticeship activities. It will deliver leading-edge lecture theatres, a training restaurant, design studios, and research facilities.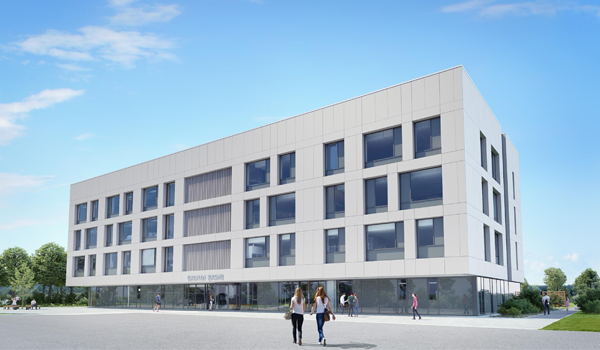 TU Dublin: Tallaght Campus - Culinary Arts, Engineering and Teaching Building
TU Dublin, Blanchardstown Campus
The financial close of this project will also provide a c.4,060m2 teaching facility in Blanchardstown that will support the future needs of learners in the West Dublin region. With universal design at its heart, the modern educational facility is planned to include open flexible spaces for active learning and will enable TU Dublin to meet the needs for worker upskilling in the region.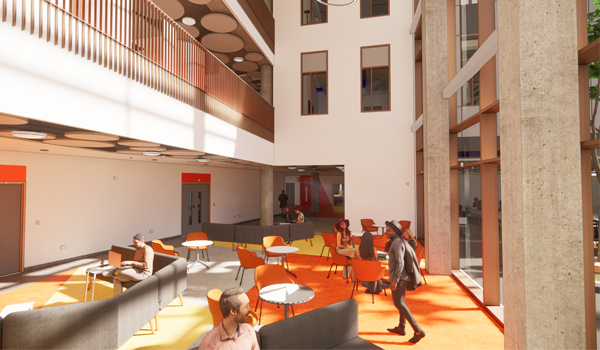 TU Dublin, Blanchardstown Campus - Break Out Space
Both projects will facilitate collaboration between students, and staff, with industry, research and community partners in modern facilities that promote research and student learning, while directly addressing industry skills needs in the South and West Dublin regions. The contract has been awarded to the Enbarr Partnership, comprising Macquarie Capital Group Ltd. (equity provider), JJ Rhatigan & Company (construction contractor) and Sodexo Ireland Limited (facilities management). The project will be funded by AIB, Bank of Ireland, Nord/LB, Korea Development Bank and Norinchukin Bank.
Welcoming the announcement, the President of Technological University Dublin, Professor David FitzPatrick, said, "With this week's financial close of the first bundle in the Higher Education Public Private Partnership (PPP) programme, we have reached yet another significant milestone in 2022 in the development of TU Dublin. The announcement by Minister Harris paves the way for the construction of two critical elements of Higher Education infrastructure in the Greater Dublin Region on the University's Tallaght and Blanchardstown campuses. These new developments will enhance the learning and working environment where our University community can explore, develop, expand their abilities, and reach their full potential. In addition, in keeping with the University's sustainability ethos and energy policy, the University will connect to a new district heating system using waste heat in Tallaght, while the new building in Blanchardstown will use air-source heat pumps."
Continuing, Professor FitzPatrick said:
"TU Dublin has enjoyed a high level of collaboration and engagement with the Department of Further and Higher Education, Research, Innovation and Science, the National Development Finance Agency and the Higher Education Authority in bringing these projects to a financial close. We look forward to continuing to work with the Enbarr Partnership over the next two years during construction and onwards into the operational phase of the contract."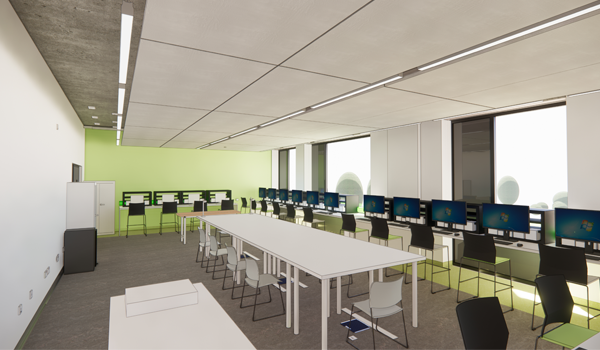 TU Dublin, Tallaght Campus - Design Studio
This project is being delivered under Project Ireland 2040, which recognises that investment in education is central to achieving a strong, future-proofed economy, balanced across the regions, and a just society in which all citizens are enabled to fulfil their potential.
Read the Department of Further and Higher Education, Research, Innovation and Science announcement here.