TU Dublin wins three awards at GradIreland AHECS Employability Awards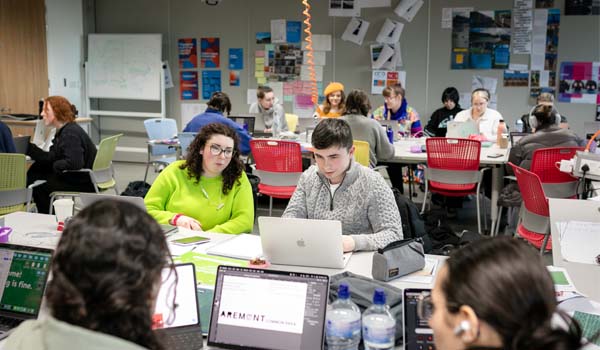 TU Dublin Career Development Centre and partners swept the boards at the recent Gradireland AHECS Employability Awards event held in the Mansion House, winning in three of the four award categories.
The Supporting Student / Graduate Employability Category Award was presented for Student E-Guide, created by Christiane Brennan, and developed to assist LGBTQIA+ individuals in making the transition from education into employment and to enable career professionals to support this student cohort effectively. The resources included training webinars, a student career e-guide and a coaching guide for career professionals. These were shared with HE Career Services in Ireland and the UK.
Jill Barrett won the Building Effective Partnerships Award in partnership with Angela Collins of South East Technological University - Waterford. Jill's concept - to create an event focused on careers in leadership for under-represented groups - led to the foundation of the 'Lift the Lid on Equality' event in April 2022. It aimed to educate, motivate and inspire all those attending towards the contemplation of leadership and achieving a more equal, diverse, and inclusive society. Seventeen contributors from business, politics and the voluntary sector engaged with an online audience of c.2000 countrywide in a series of fireside chats and motivational speaking sessions. The event was run again in April 2023, organised and hosted by TU Dublin Students' Union.
TU Dublin's third win was by the Pharmacy Technician Studies Team (Dr Tao Zhang, Dr Seána Hogan, Mary-Therese McGrath, Kathy Young, Dr Denis O'Shea, Dr Gemma Kinsella, Prof Christine O'Connor and Dr Julie Dunne) from the School of Food Science and Environmental Health, collaborating with the Career Development Centre, on their submission in the Research Informed Practice Award category. This culmination of the research was proof that students' employability can be developed and enhanced through an integrated e-portfolio approach. This led to the development of Professional Development e-Portfolio Modules for Pharmacy Technician students, which were integrated into the curriculum with diverse activities and training.
The Career Development Centre has a host of great resources available to students. Review the Student E-Guide, Career Coaching Guide, and other resources on our Career Development Centre page.
For more information, contact christiane.brennan@tudublin.ie, jill.barrett@tudublin.ie, tao.zhang@tudublin.ie