Future Projects
The next phase of development at Grangegorman will see another three brand new academic buildings - the Academic Hub & Library, West Quad and FOCAS - constructed by 2023 and will bring the campus student population to 15,000. In line with Government policy for all new public buildings the University's new build programme seeks to provide 20% of the building's energy demand via local renewable energy generation and achieve an overall reduction of 50% in carbon content by 2030.
Academic Hub & Library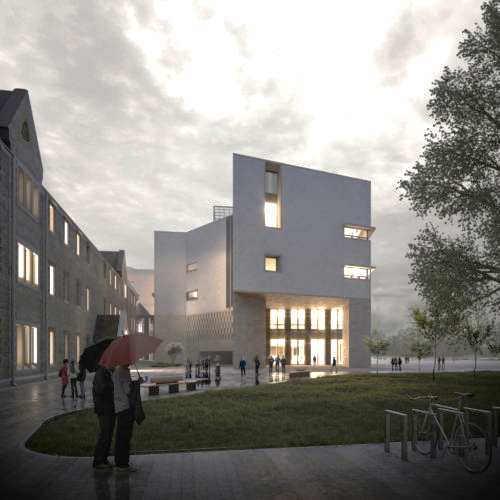 The Academic Hub, scheduled for completion in 2023, will be the library for the University at Grangegorman. A visually striking building, it will incorporate and wrap around one of our historical buildings and deliver some 19,000m2 of learning space. The building will also feature a roof garden with spectacular views of the city.
West Quad
Scheduled to open in 2023, the West Quad will be home to the College of Business, currently located in Aungier Street. The building, at approximately 20,000m2, will offer a range of technology-enabled learning environments, including turn and learn lecture theatres, flexible classrooms, collaborative and informal workspaces, and dedicated/specialised laboratories in Business Innovation (Data Analytics and Supply Chain), Retail, Immersive Technologies & Advertising and Financial Laboratory & Trading Rooms. The West Quad will also feature the University's Conferring Hall.
FOCAS
In 2023, Grangegorman will also see the opening of a new Research building to replace the one currently situated on Camden Row. The new building, along with the already completed Greenway Hub, will form the University's Research Hub at Grangegorman and will provide postgraduate students and researchers with state-of-the-art laboratory and office space.
Indoor Sports Phase 1
TU Dublin has begun the process of developing a new Indoor Sports Centre for the Grangegorman campus. The first phase of the development of the project seeks to construct a centre with a fitness gym and sports halls with changing facilities. Planning works are well underway, and it is hoped that a Design Team will be appointed to the project shortly.
Other Projects
Beyond these projects, TU Dublin is pursuing a new Engineering Quad's construction to replace our Bolton Street building and bring the final part of our city-based campuses to Grangegorman. This will see the student population rise to 20,000. We will also be pursuing the construction of a new Student Centre to ensure TU Dublin students have the best facilities possible. And, in the coming years, we also hope to be able to provide on-campus student accommodation.