A cross-disciplinary team of Mechanical Engineering and Business students represented TU Dublin in the ESB Inter-Colleges Challenge 2019, competing with teams from nine other universities.
Declared winners for the second year in a row, Samuel Berry, Pierce Blackmore, Jake Rogers and Sanchit Aggarwal presented their case study on Decarbonising the Transport infrastructure for Galway and their winning proposal for a green metropolitan transport system for 2040.
The TU Dublin team was mentored and coached by Dr Sajad Alimohammadi and Professor David Kennedy from the School of Mechanical & Design Engineering and Dr Eoghan O'Grady from the College of Business.
According to Professor Kennedy "The members performed to an excellent standard demonstrating a very high ability in Engineering, Business and Multidisciplinary teamwork combined with exceptional communication and presentation skills".
Dr Alimohammadi went on to say that, "Ireland is committed to promoting the UN's Sustainable Development goals. Looking at the case considered for the competition by ESB as Green Transport System, it is perfectly aligned with and directly addresses three major goals as Affordable and Clean Energy, Sustainable Cities and Communities, and Climate Action".
The team will now represent Ireland at the international engineering and commerce competition ENGCOMM in Montreal, Canada. Dr O' Grady committed to ensuring the team will be fully prepared for this next challenge and "will once again represent Ireland with great distinction at this very prestigious international competition".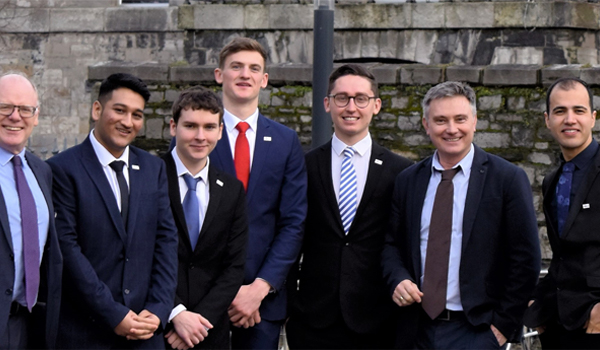 Marguerite Sayers, ESB Executive Director Customer Solutions and President of Engineers Ireland presenting the Team with the prestigious McLoughlin perpetual trophy.
The Team with Dr Eoghan O'Grady