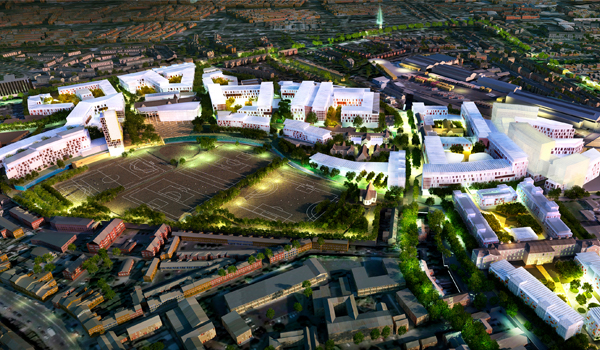 Lighting company, ECI Lighting, recently created this wonderful video of the Grangegorman Campus by night. By September 2020, almost one in three TU Dublin students will be based on the University's flagship campus at Grangegorman.
The largest building in Grangegorman at 36,000m2, the Central Quad will be home to students and staff in the following disciplines; Biological Sciences; Chemical and Pharmaceutical Sciences; Computer Science; Food Science and Environmental Health; Mathematical Sciences; Physics, Clinical and Optometry; Culinary Arts and Food Technology; Hospitality Management and Tourism and Electrical and Electronic Engineering. Building work on theCentral Quad will be completed by December 2020. Students of sciences and health, electronic and electrical engineering, culinary arts and hospitality management will begin the academic year in their previous locations (Kevin Street and Cathal Brugha Street) but will migrate to the new campus ahead of Semester 2
The new cultural hub of Grangegorman, if not the city, will be the East Quad, which will be home to students of Music, Drama, Creative Arts, Media, Law, Social Sciences and Languages. Accessed via the Broadstone Gate – a new public plaza which will link the Green Line Luas to the University. The School of Creative Arts at TU Dublin was the first to move in its entirety to Grangegorman in 2014, along with Photography and Social Sciences. In September 2020, they will move from their current locations on campus to the East Quad where they will be joined by colleagues and students of Media, Law and Languages with music students due to move later on in the year.
Video courtesy of ECI Lighting.