TU Dublin Research Showcase with VIRal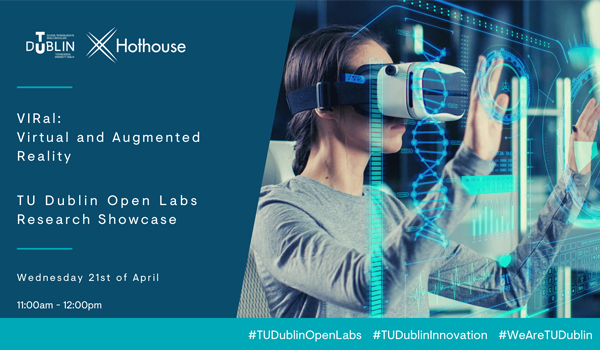 Following on from the recent TU Dublin Open Labs Anniversary event, TU Dublin Hothouse is delighted to announce a new series of events showcasing research across the university.
The first event, taking place on Wednesday, 21 April, from 11am - 12pm, will feature Dr Brian Vaughan and guest speakers from the Virtual Interactive Research Lab (VIRal). VIRal specialise in virtual and augmented reality research, innovation, and industry collaboration. Dr Vaughan and guests will discuss cutting edge virtual and augmented reality research, development, and collaboration in VIRal.
Registration: http://bit.ly/VIRal_TUDublin
Date: Wednesday 21, April 2020
Time: 11:00am – 12:00pm
Breakout Rooms
There will be two breakout rooms available after the presentation and panel discussion where delegates will have the opportunity to speak with researchers about Virtual Reality and Augmented Reality in more detail.
Who should attend?
This webinar is for anyone interested in virtual and augmented reality research and collaboration with TU Dublin and funding and supports available to support potential projects.
The Virtual Interactive Research Lab (VIRaL) at TU Dublin is a cutting edge virtual and augmented reality research and development environment in a large, dedicated space. The lab serves several functions as a research space for postgraduate research, a development space for students on the MSc in Creative Digital Media and the BA in Game Design, and applied development space for commercial and innovation partnerships with TU Dublin Hothouse. We believe VR and AR technologies have tremendous potential to provide deeply immersive experiences across various fields: digital media, journalism, games development, simulation-based medical education, manufacturing, and business. We want to explore innovative, forward-thinking solutions to complex problems across these domains, examining how AR and VR technologies can be used to augment, improve, and innovate existing practices and methods. We have worked with several companies on AR and VR projects: Intel, Guinness Storehouse, Mater Private, St. Luke's Hospital Kilkenny, and Inflight Dublin. Our current research project is an immersive Irish language VR experience.
Open Labs is a pioneering Research and Development outreach initiative from TU Dublin Hothouse and has supported over 150 start-ups and SMEs to develop new products and services since it was established in 2018. During that time, it has generated over €1.5m in research income and has provided industry sectors that are critical to the Irish economy with access to over 600 researchers and to high-tech facilities to support early-stage research and innovation.
TU Dublin Hothouse is the award-winning Knowledge Transfer and Incubation Centre located on TU Dublin Grangegorman Campus. We are responsible for the commercialisation of intellectual property arising from TU Dublin research. We are the hub of innovation and technology transfer activities. We have a range of spinout technologies available to industry across Life Sciences, Food, ICT, Software, Industrial Technology, Manufacturing and Clean Technologies. Our team works with students, lecturers and research teams across TU Dublin and entrepreneurs, industry leaders and investors. Through the TU Dublin Hothouse New Frontiers Start-up Programme, we provide a start-up incubator for innovative and promising start-up companies.