World Intellectual Property Day, 26 April 2021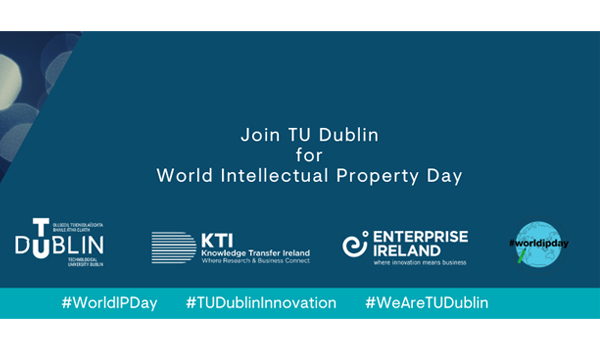 Technological University Dublin (TU Dublin) is celebrating World Intellectual Property (IP) Day 2021 on Monday, 26 April 2021, with an event highlighting how a strong IP strategy can help build competitive and resilient SMEs and help bolster Ireland's reputation as a Global Innovation Leader.
Speakers will take a closer look at identifying, protecting, and leveraging IP assets for business growth, the business opportunities that can flow from IP licensing, and the range of options available to finance innovation.
IP rights provide the means by which researchers and innovators can legally protect their innovative and creative outputs and secure an economic return from them. This event, hosted by Hothouse, Synergy and the LINC at TU Dublin, will discuss how an idea can be turned into a business opportunity that generates value and creates employment. Speakers will include Professor David FitzPatrick, President of TU Dublin; Dr Alison Campbell OBE, Director of Knowledge Transfer Ireland; Chris Horn, Investor, Mentor and Partner in Atlantic Bridge and many others.
Speaking about the event, Dr Paul Maguire, Head of Innovation and Enterprise at TU Dublin, said, "While IP is a powerful tool for SMEs to create economic value and advance their business goals, it also allows student and staff at TU Dublin to protect their ideas and find industry partners to bring a new product or service to market. At our World Intellectual Property Day event, TU Dublin is launching a new Invention Disclosure process designed to help our innovators identify Intellectual Property (IP) and determine the best commercialisation route to take."
Providing an overview on World IP Day, Dr Alison Campbell OBE, Director of Knowledge Transfer Ireland, said, "World IP Day presents a unique occasion to highlight the value of Intellectual Property. IP generated from research carried out in conjunction with or by Third Level institutions can set businesses apart from the competition. I would encourage any business, large or small, to utilise the network of supports available to them through the technology transfer offices in universities and institutes of technology and the KTI website to effectively protect and manage their IP strategy during a challenging business climate."
Discussing intellectual property, Chris Horn, Investor, Mentor and Partner in Atlantic Bridge, said, "To succeed in the highly competitive global market, entrepreneurs need a crystal-clear intellectual property strategy. This needs to both be defensible to the opposition but simultaneously attractive to the market."
You can watch the video of the event below: