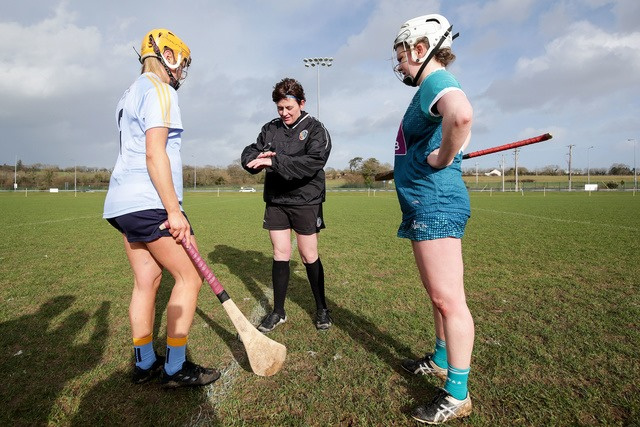 The College Club for Camogie at TU Dublin.
TU Dublin is a University wide Club providing student camogie programming at Senior Intermediate and Fresher level to all Campuses across TU Dublin
History
TU Dublin Camogie Club came into being in September 2019 with its main aim and goal to provide a platform for Student Camogie across the University. Traditionally students from IT Tallaght played with DIT so when the University formed from a merger of DIT, ITT and ITB, TU Dublin Camogie became one of the first University wide Clubs. Under the DIT banner the Club had enjoyed success in the Purcell Cup and THird level leagues. While a number of the Club's former students have gone on to represent their club's and counties with distinction and some have won All- Stars on the national stage.
Currently the club fields three teams. A Senior Team which competes in Division One and the Purcell Cup. An Intermediate team which competes in Division Three and Corn Ui Maogaláin and also a Fresher team. The Club is run by students for students with an emphasis on building friendships as well as competition. The Club's programme of games and training is also underpinned by a vibrant social side. We would encourage all students at whatever level of Camogie to get involved and join and make friends not just for college but for life.
Achievements
Roll of Honour
Purcell Cup Champions (TU Dublin) 2022 (DIT) 2017, (DIT) 2010
Purcell Cup finalists (TU Dublin) 2020, (DIT) 2015 replay, (DIT) 2014, (DIT) 2008
Purcell Shield Winners (DIT) 2011
Div 2 Champions 2011
Corn Ui Mhaolagáin (TU Dublin) 2022
Purcell All Stars
2008
Sarah Ryan Crumlin Dublin, Deirdre Codd Duffry Rovers Wexford, Jolene Hoary Good Counsel Dublin
2010
Karen Mullins Tipperary, Sarah Ryan Crumlin Dublin, Ailleen O Loughlin Mountmellick Laois, Jane Dolan Blackhall Gaels Meath
2011
Grainne Quinn St Pats Palmerstown , Jane Dolan Blackhall Gaels Meath , Cathy Bowes Mullagh Galway, Aoife Burke St Judes Dublin, Joeleen Hoary Good Counsel Dublin
2012
Gráinne Smyth Crumlin,
UPMC Ashbourne Weekend All Stars
2020 Kerrie Finnegan Faughs
2022 Jody Couch St Oliver Plunketts Eoghan Ruadh , Megan Shields Kill Camogie
Intervarsities
Senior - Ashbourne Cup / Div 1 League
Fresher - Fresher Tournament / Leinster League
Intermediate - Corn Ui Mhaogláin / Div 4 League