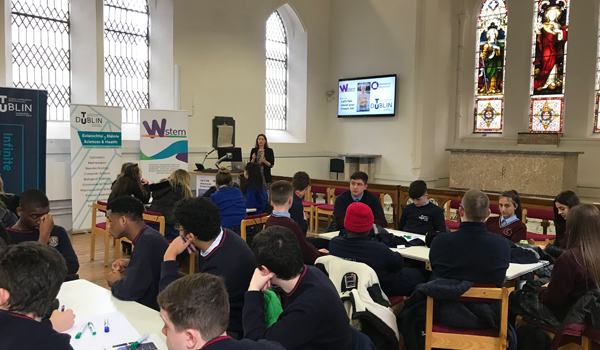 In celebration of International Women's Day, TU Dublin welcomed students from local secondary schools to take part in the interactive workshop – Let's talk about your dream job.
Organised by the College of Sciences and Health at TU Dublin, the event was part of the ERASMUS project W-STEM: engaging women into STEM, which is working to encourage more women from Latin-American to study STEM subjects at University. TU Dublin is one of fifteen Universities in Europe and Latin American participating in the strategy, which is co-led by Universidad de Salamanca, Spain and Universidad del Norte, Colombia.
Elizabeth Heffernan, Sciences and Health College Manager, welcomed the students from St. Mary's Secondary School, Cabra Community College and St. Paul's, North Brunswick Street, to the event, designed to challenge the male and female students' views about gender and the types of jobs men and women do.
Dr Julie Dunne, Assistant Head, School of Food Science and Environmental Health, began the day by exploring the students' attitudes to gender and stereotyping in specific activities, roles and careers. Many students continued to associate certain jobs with men or women; however, there was a visible shift in this thinking, with no apparent association between gender and the Engineering field. Following Dr Dunne's session, Peter Lewis, Careers Officer at TU Dublin, told the students "it is all about choosing the right career, not the expected career" and to "listen to fact, rather than others opinion."
After a quick break, the audience was introduced to a panel comprised of a Plumber, Computer Scientist, a Primary School teacher and a Carpenter and asked to identify which person was which! The panellists were:
Amy Bohan, Computer Scientist at Accenture
Mollie Northridge, Apprentice Carpenter with Dublin City Council
Mykie Northridge, Apprentice Plumber with Jones Engineering
Ciaran Fadian, Primary School teacher at Dunboyne Senior Primary
Speaking about their experiences, the panel demonstrated that gender is irrelevant in building skills in their chosen professions, and despite encountering challenges with bias; they spoke of the mentors that helped them along the way. Other activities during the day included a talk about how lack of diversity in teams negatively affects innovation and design by Dr Julie Dunne, while Amy Bohan from Accenture spoke about their policies of Inclusivity, and the role of males in equality.
Moya Browne, TU Dublin SU VP for Student Welfare, dropped by to share her views on how TU Dublin supports diversity. Professor Yvonne Galligan, Director of Equality, Diversity & Inclusion also popped in and said, "you need to understand what you want out of life ...sometimes decisions are tough … don't be afraid to make mistakes."
About W-STEM
The W-STEM project is a capacity-building project for Latin America that focusses specifically on improving strategies and mechanisms of attraction, access and guidance of women in Latin-American STEM Higher Education undergraduate programmes. The STEM areas identified are Natural Sciences and Mathematics; Information and Communication Technology and Engineering, Manufacturing and Construction.
The project involves partners from Europe and Latin America, on the basis that "some European countries are at higher developmental stages, culture on gender equality is embedded in the universities… thus they have mature procedures, experiences, regulations, etc., which can be transferred to LA institutions through this project". You can read the W-STEM (ERASMUS) Project Summary here.