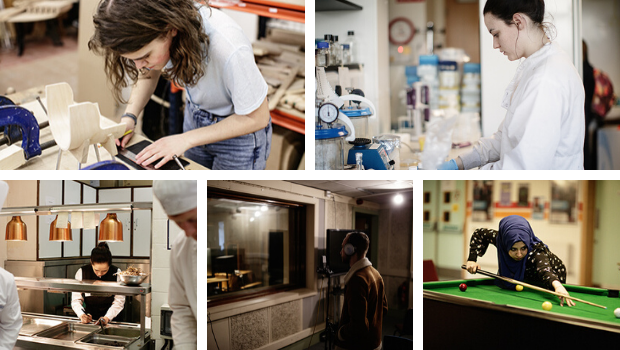 Ahead of the CAO Change of Mind deadline on Wednesday, one of the largest universities in the country is finalising plans and adjustments for the return to campus for Academic Year 2020/2021.
Technological University Dublin (TU Dublin) has over 28,000 full-time and part-time students - including apprentices, undergraduates and postgraduates - normally based on its campuses in Blanchardstown and Tallaght, and in the city centre in Grangegorman, Aungier Street and Bolton Street.

Preparing for the challenges and choices facing the University, the President, Professor David FitzPatrick said that for the majority of TU Dublin students, up to 40% of their learning takes place in a practice-based environment. "We are lucky that, for the most part, our students spend a significant amount of time on campus in smaller group settings rather than in large lecture theatres. These settings include laboratories, studios, kitchens, music rooms and workshops. We are working through the full inventory of these physical settings and activities to confirm the adjustments that need to be made so that students can continue to benefit fully from that experience."
While detailed information and course timetables will be provided when students register for the new academic year, the President said the objective is for students to be able to return to campus and to interact safely with their lecturers and classmates. According to Professor FitzPatrick, "There is no doubt that Semester 1 entails a blended approach to learning with a focus on student engagement between on and off-campus delivery. We are working with our staff, students and social partners to put in place appropriate safety measures to ensure that our traditional laboratory and studio work can go ahead as close to normal as possible."
Professor FitzPatrick explains he has asked colleagues to make first-year students a key priority. "We are very aware that the majority of CAO applicants in 2020 have had a tough year so far. We want to ensure that we do everything we can to help them embrace the excitement of coming to University – experiencing new things, making new friends and expanding their horizons. What we all need to remember is that this difficult situation has also opened up new opportunities for us as a university and for our students so we are looking at it positively. Our motto is 'Infinite Possibilities', and we are exploring many of those possibilities now."
Students returning to continue their studies in TU Dublin in September, or first-year students preparing to start their studies, are welcome to contact the University during the summer months. They can visit the University's website for information or contact our Social Media channels to clarify any queries they may have. TU Dublin is also busy preparing a virtual welcome pack for new and returning students, which will include all the information they need to enjoy their University experience next year while keeping safe on-campus.