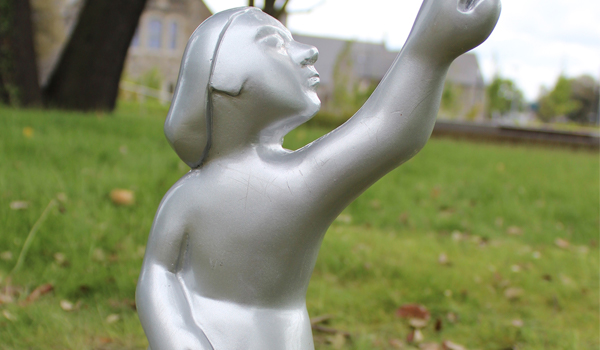 For International Sculpture Day on Saturday, 24 April, the Grangegorman Development Agency is inviting the local community to take some time out of their day to view The Axe (and the waving girl) by artist Alice Maher.
Artist: Alice Maher
Medium: Outdoor Installation
Collection: Irish Museum of Modern Art (IMMA)
Location at Grangegorman: Top of Cultural Garden, Grangegorman west
Website/Social Media: www.alicemaher.com
Commission Type: On Loan from IMMA
Commissioner: Grangegorman Development Agency, TU Dublin
Dates of loan: 2015 – 2021
Per Cent for Art: Yes
Background
The Axe (and the waving girl) takes on the subject of the fairy tale; a subject Maher returns to again and again. The young female figure is waving to an axe, which is leaning precariously against a tree. Distance and closeness, and the contrast in scale, unsettle and disrupt the natural balance, as much as the apparent menace.
This work is on loan from the Irish Museum of Modern Art (IMMA) to TU Dublin as part of Pathway 6: Lending & Acquisitions of '…the lives we live' Grangegorman Public Art.
You can see more photos of the piece on the Grangegorman Development Agency website.