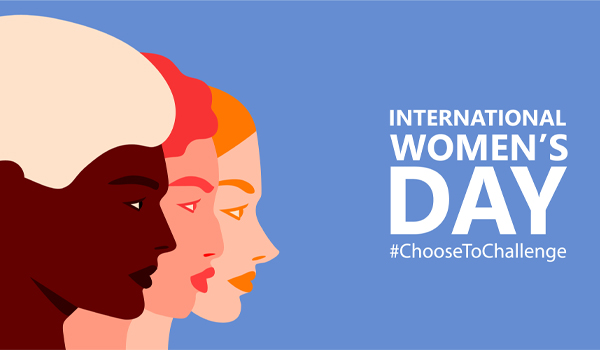 In celebration of International Women's Day, TU Dublin is organising and is participating in a range of events on this year's theme of #ChooseToChallenge.
A challenged world is an alert world. Individually, we're all responsible for our own thoughts and actions - all day, every day.
We can all choose to challenge and call out gender bias and inequality. We can all choose to seek out and celebrate women's achievements. Collectively, we can all help create an inclusive world.
From challenge comes change, so let's all choose to challenge.
Events Schedule
| | | | |
| --- | --- | --- | --- |
| Name | Host | Date and Time | Register |
| Women in Leadership with Professor Yvonne Galligan | Embassy of the Republic of Poland | 5 March, 11:45am – 3pm | Event Finished |
| IN anticipation of International Women's Day, the Argentine Embassy in Ireland interviewed the TU Dublin Lecturer Mirna Vohnsen. | Embajada de la República Argentina en Irlanda | Live on Facebook Now | Event Finished |
| Choose to Celebrate Small Wins with Leisha McGrath and Margaret Masterson | Women Leaders in Higher Education | 8 March, 10:30 – 11:30am | Event Finished |
| 'From Challenge comes change, so let's all choose to challenge.' | ESHI | 8 March, 9 am – 1 pm | |
| Women in Leadership | Times Higher Education | 8 March, 2 – 2:45 pm | Event Finished |
| IWD2021 Lights | TU Dublin | From Dusk | St, Laurence's will light up in purple in celebration of #IWD2021 |
| IWD Cyber Security Event | Cyber Security Team | 8 March, 6 pm – 10 pm | Event Finished |
| Women in Apprenticeships | Access to Apprenticeship Team | 11 March, 1 – 2 pm | Event Finished |
| Responding to this year's International Women's Day (IWD 2021) theme, "Choose to Challenge", TU Dublin - Hothouse, LINC & Synergy - has planned a month-long showcase of the achievements by women in TU Dublin in entrepreneurship, innovation, research and development. | TU Dublin | 1 March -31 March | Event Finished |
| Women in IT, Apprenticeships and Engineering | ESTeEM | Online Now | Event Finished |
| Celebrating women in design and the importance of having the female voice in technology design.' | Engineering Department, Blanchardstown | Two Interactive design workshop for female technology students in TU Dublin | Details to follow |