TU Dublin Wheelchair Racer Patrick Monahan Sets His Sights on Tokyo Glory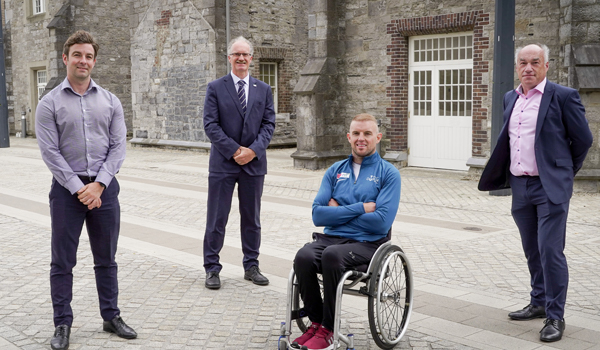 TU Dublin student Patrick Monahan is preparing to represent Ireland in the Paralympic Games for a second time this summer in Tokyo. He talks about his journey from Naas to Japan.
Patrick, a first-year Community Development & Youth Work student on the University's Blanchardstown Campus, was 21 when he was in a serious car accident that left him with long-term paralysis. "I was always interested in sport, but for a long time after the accident, I went away from sport. Then, during the 2012 Olympics in London, I saw David Weir win four gold medals in Athletics, that made me want to give the sport a go."
Determined, Patrick set out about securing a racing chair from the Irish Wheelchair Association, and a friend suggested that he start training for the Dublin Marathon in 2013. "I didn't know much about how to programme wheelchair racing sessions, and I only had four or five months before the race, which nearly killed me! But I could see the results, that I was improving."
Despite his rookie status, Patrick was third to cross the finish line of the Dublin Marathon in 2013 with a time of 2:38:54 and encouraged by his success; he continued training. "My next race was the following May in Belfast, and it was up there where I met Ian Mirfin, a British Paralympics Coach who opened a lot of doors for me. When I trained on my own, I would just go out for two hours every day, but Ian gave me a set programme, only for him I wouldn't have made it."
Patrick's preparations include strength and conditioning training followed by physio as well as clocking up to 180km a week in the race chair. Still, he cites the heat in Japan as a big worry. "A few days a week, I spend a couple of hours in a heat chamber so I can acclimatise for Tokyo; if you add up the time waiting for the race, the race itself, it comes to a couple of hours that I would be exposed to that heat."
COVID-19 has undoubtedly affected Patrick's training, and his first race for 18 months was in Minnesota last month. "If I didn't make it to the US, my race in Tokyo would have been my first in almost two years, so I was relieved to get to the US to compete against the top lads in my class."
Although he hasn't spent much time on campus this year, Patrick has enjoyed his first year with TU Dublin. "I have only been to my campus in Blanchardstown once, but my first year has gone well, and when I need to start travelling more to race, it is great to know that there are so many supports in place through the Athlete Support Programme at TU Dublin. It is very reassuring."
But overall, he believes the pandemic helped him find some balance between his sporting career and the rest of his life. "I think it worked out well for me as I have a better balance between sport and outside of sport now, and it has turned out to be a good year for me. All my eggs aren't in one basket, and I am working towards something with my studies."
Looking back on his career to date, Patrick says there are plenty of high points, "Going to Rio for the Games in 2016 was a definite highlight for me. I had only been competing for a few years, so getting there was a real achievement. Unfortunately, I got sick during the games, and as a result, I didn't compete to my ability, but I finished 16th. I have broken plenty of records, but in 2019 I shattered my own record, now 1hr 22mins, making me the third fastest in my class, and finishing my first Marathon in 2013 opened up a whole new sporting career for me."
Patrick Monahan will represent Ireland in the Marathon at the 2021 Paralympics in Tokyo. You can follow his story on Twitter.
Patrick Monahan's sporting achievements are supported by the Elite Athlete Support Programme at TU Dublin.