WLHE - In Conversation with Jennifer Boyer and Niamh Shannon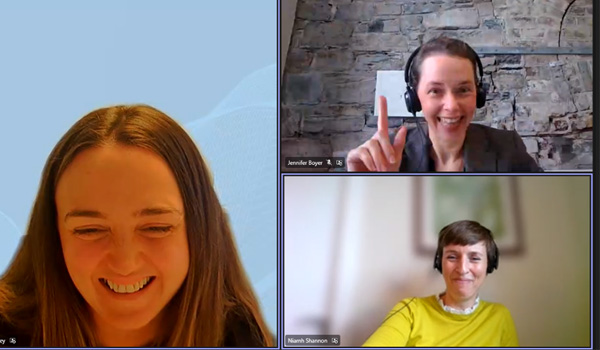 As Semester One drew to a close, the Women Leaders in Higher Education (WLHE) Network gathered virtually to listen to a conversation moderated by Dr Etain Kidney with two of the University's new VPs – Jennifer Boyer, Vice President for Sustainability and Niamh Shannon, Vice President for Organisation, Change & Culture. Introducing the session, Dr Jan Guerin explained that WLHE was established to empower and enable women in all roles across the University and to encourage time for reflection on their personal and professional development and career advancement and enhancement.
Etain began by asking Niamh what she thought was meant by Organisation, Change and Culture, "It is many things – how do we develop as an organisation, how do we retain our staff and bring in new talent. We will look at how we equip our people with skills and policies to achieve organisational goals and to help them fulfil their potential."
When asked about her journey to TU Dublin, Niamh spoke about her passion for Social Justice as a teenager, which led her to a Masters in Human Rights, believing a career in Research and Policy was for her. "I realised quickly that research and policy weren't for me and that I wanted to effect change quickly, so I was drawn to projects and programmes in organisational effectiveness in the public sector and in health. "When asked about her vision for her new role, Niamh wished for staff across the University and at all levels to be empowered to make changes in their work that will contribute to the delivery of the University's strategic plan and succeed in their personal and professional goals.
Irish Higher Education's first VP for Sustainability, Jennifer Boyer, spoke about how a sense of adventure and openness has driven many big decisions in her career and life. "When I finished my architectural studies, many of my classmates were heading to the big cities to take up roles in Architectural Practice, but I felt I just didn't know enough about the world, and so I decided to travel and ended up working for Galway County Council and living in windy and very wet Oughterard. After that, I made my way to Dublin and took a role in an Architectural firm which eventually led to me accepting a position to run a branch in Eastern Europe."
After the financial crash devastated the AEC industry, Jennifer felt it was time to take a reflective pause to plan her next steps, eventually taking a lecturing role with the Dublin School of Architecture. "After a few years of teaching and studying for an MBA, I decided to take another leap and applied for two Assistant Head of School roles, and I was offered both."
More recently, intrigued by the possibilities of a role focused on Sustainability, Jennifer began to consider the idea of applying. "I said to a colleague, you know what? I am going to go for it. My advice for anyone else applying for a leadership role is to believe in yourself. It is not always about the end goal, even just to go through the process and to be able to say – I did my best."
Discussing her vision for the role, Jennifer explained she was excited to start making changes, but delivering on a sustainable agenda would be a long process. "Embedding a sustainable ethos in all that we do will take time, but seeing how the next generation, our students fully grasp why this is important means I have to temper my desire for action now! Society is changing, and now we have this opportunity to reflect on how we work, where we work, and as our organisation, we need to rethink our systems and process.
Connect with us on LinkedIn Connect with the network on this professional social platform and share resources and stories