Professor David FitzPatrick is the inaugural president for TU Dublin following its designation as a Technological University on the 1st of January 2019.
In addition to his highly regarded leadership as Principal of the College of Engineering & Architecture and Dean of Engineering at University College Dublin (UCD), TU Dublin President Professor David FitzPatrick has excellent academic credentials, considerable experience at executive level, a significant international profile and extensive industry experience, having managed the product development and research of orthopaedic devices.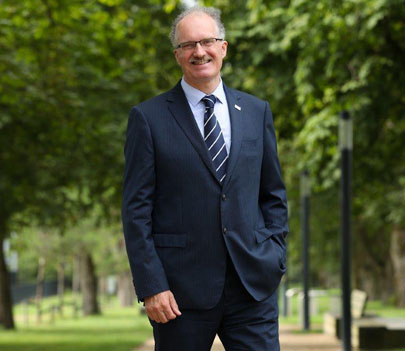 Prior to assuming his role as president of TU Dublin, Professor FitzPatrick was recently Principal of the College of Engineering & Architecture and Dean of Engineering at UCD, with responsibility for the strategic planning, personnel management and budgetary performance of the faculty. Since 2014 he has also served as a member of the University's executive team.
Professor David FitzPatrick holds a bachelors degree in Engineering from Trinity College Dublin, and a doctorate in biomechanics from the University of Oxford. After receiving his doctorate, Professor David FitzPatrick worked in the orthopaedic industry, initially with Howmedica International Ltd. in Limerick, followed by a career with DePuy International in Leeds. His work with DePuy International included managing product development, strategy and research programmes for knee, upper limb, trauma and spinal product lines.
In 1998, Professor FitzPatrick returned to Ireland to UCD's Department of Mechanical Engineering and was promoted to Senior Lecturer in 2005, Associate Professor in 2010 and full Professor in 2012. He served as Head of the School of Electrical, Electronic and Mechanical Engineering from September 2005 to August 2011, followed by a period as Vice Principal for Internationalisation & Development in the College of Engineering and Architecture. Following his appointment as Provost of the Beijing-Dublin International College in 2012, he led the development of Ireland's largest dual-degree programme initiative in China and has continued in that role since becoming Principal of UCD's College of Engineering & Architecture, and a member of UCD's University Management Team, in 2014.