Ireland's Five TUs Launch Initiative to Make Publicly Funded Research Easily Accessible and Reproducible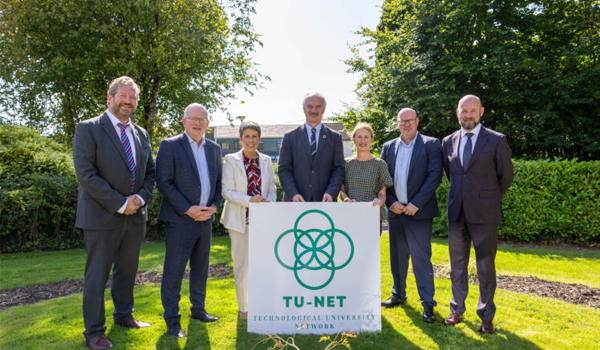 The transformational initiative aims to make all publicly funded TU research easily findable, searchable and reusable in line with ambitious national 2030 targets.
Ireland's five technological universities (TUs) have launched a joint initiative to advance excellence in Open Research, making it reproducible and accessible without additional cost to the public.
TU-NET, launched today (September 8, 2023) by Professor Philip Nolan, Director General of Science Foundation Ireland, at TUS's Athlone Campus, goes towards meeting national targets of 100% of taxpayer-funded research to be made available to the public by 2030.
Much of the publicly funded research is currently inaccessible to the public without individual or institutional paid access. TU-NET, an initiative by TU Dublin, TUS, MTU, SETU and ATU's research offices and libraries, aims to change this while advancing excellence in Open Research.
The TU-NET initiative will increase the visibility and discoverability of the diverse, applied, and near-to-market research typically undertaken in TUs and make it easier for other researchers nationally and globally to access and engage with their research outputs.
As much as 75% of the research outputs of the TU sector are applied, like software and datasets, which are not published through traditional channels but have a significant research impact.
A first-of-its-kind joint statement signed today by all five TU presidents demonstrates a shared commitment to meeting ambitious TU and national targets for research.
Speaking at the launch of TU-NET, Prof. Nolan, also CEO-designate of a new national research and innovation agency yet to be formally announced, said, "Ireland has demonstrated its commitment to Open Research and Open Science through its support of the National Open Research Forum.

"Initiatives such as TU-NET demonstrate how the technological universities are progressing their own transition to an Open Research environment and are identifying the skills and infrastructure to operate in this landscape".
Welcoming the launch of TU-NET, TUS President Prof Vincent Cunnane remarked, "Today marks another significant step forward for the new technological university sector in Ireland, which is now united by a common vision to embrace the opportunities of Open Research.
"The technological university sector embodies the diversity of research activities and outputs that are critical to engaging students, industry and the public in new knowledge for the benefit of all. I'm delighted that our shared statement on Open Research also echoes a sector-wide dedication to the transformative power of education, research and innovation."
The TU-NET group has an ambitious agenda and seeks funding to support Ireland's five TUs in developing further Open Research capacity through shared training initiatives, resources and infrastructure.
Under new EU rules on publicly funded research, researchers must publish, not only their research output, but also the data underpinning it to make it easily reproducible, the gold standard of academic publishing.
With this in mind, in 2024, TU-NET will begin the implementation of a new data management planning solution as a national case study for the Horizon Europe OSTrails project, to house this data.
TU-NET's Chair Frances Madden, who is also Assistant Head of Library Services: Research Services, TU Dublin, said, "TU-NET's ambition is for every researcher, staff and student, in Irish technological universities to conduct their research with the highest standards of research integrity and reproducibility. By creating shared expertise and surrounding infrastructure for Open Research across the sector, we plan to enable that facility."
Read the full TU-NET Open Research Statement.