New RTÉ One TV Series Brainstorm Profiles TU Dublin Research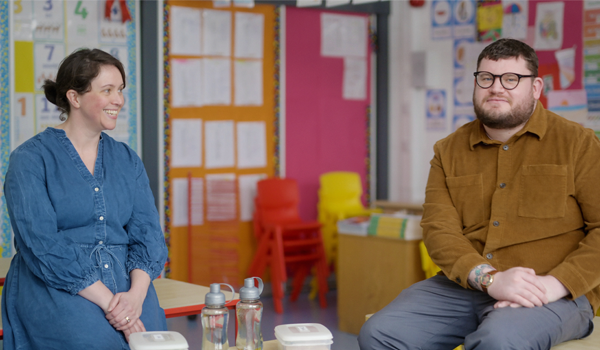 Ever wondered why we count magpies or whether or not postcodes have an impact on house prices? Or why 10,000 is supposed to be the magic number for steps in a day? Or who the best snooker player of all time might be?
These intriguing questions - and many more - will be answered during a new five-part family television series called Brainstorm, which will be broadcast on RTÉ One from Monday, 2 May. Social historian Donal Fallon talks to a number of expert voices and delves into a diverse range of ideas and topics across subjects that include science, sport, history and society.
The series complements the RTÉ initiative 'Brainstorm', which, since Autumn 2017, has been providing captivating content across its various platforms, tickling the curiosity of readers and listeners and delving into the evidence behind news, events and current affairs topics.
A number of Irish educational facilities are represented in the new series, including contributors from TU Dublin, Dublin City University, NUI Galway, University College Cork, University of Limerick and University College Dublin.
When it comes to finding out if dogs can bring emotional benefits to their owners, Donal Fallon spends time with TU Dublin's Catherine Kelly and canine behaviourist Samantha Rawson, while Dr Liz O'Sullivan examines whether a child's diet affects their future.
Elsewhere, John Perry from the University of Limerick looks into the age-old question of where do amateur sport players, such as those in the GAA, get their motivation from? Social affairs are also on the agenda, with DCU's Ruth McManus looking into how past housing schemes may give us possible solutions to the housing crisis.
The first episode of Brainstorm will air on RTÉ One at 8.30pm on
Monday 2 May and will also be available on the RTÉ Player.
Brainstorm has been produced by Midas Productions, an Irish company dedicated to creating thought-provoking, entertaining, challenging and informative television programming.
Stephen Smith, Executive producer with Midas Productions, says: "Brainstorm delivers informative and fascinating insights into a host of topics that we think about every day! It will be incredibly thought-provoking for the RTÉ One audience. Although there is a brilliant team behind the series, the real stars here are the contributors, whose insights will take the viewers on a wonderful journey to uncover the real story behind the topics. Social Historian Donal Fallon is a fantastic host, as his natural storytelling abilities allow him to bring our stories to life."
Topic breakdown of each episode of Brainstorm:
Episode One – Monday, 2 May 2022
Who was the greatest snooker player of all time?
The benefits of living with a dog
Why hay fever is going to get worse
The story behind Michael Collins' slippers
Episode Two - Monday, 9 May 2022
The history behind the sliotar
Can your accent affect your job prospects?
Does what we eat as children affect our future health?
Douze points: the who, what & why of Eurovision voting
Episode Three – Monday, 16 May 2022
Is 10,000 really the magic number for steps in a day?
What does communion tells us about society?
How did we deal with a housing crisis in the past?
What is rhythm?
Episode Four – Monday, 23 May 2022
Why do amateur sports players play for free?
The many twists and turns in the history of the mobile phone
What is the hidden history in Nursery Rhymes?
What's the impact of postcodes on Dublin house prices?
Episode Five – Monday, 30 May 2022
The science of a hangover
How your bilingual baby's brain handles two languages
Is it ok to colourise historical photographs?
Who invented the Leaving Cert, and is it getting easier? Should it be scrapped?
To learn more, visit the RTÉ Brainstorm website.