TU Dublin Hosts International conference on Clinical Spectroscopy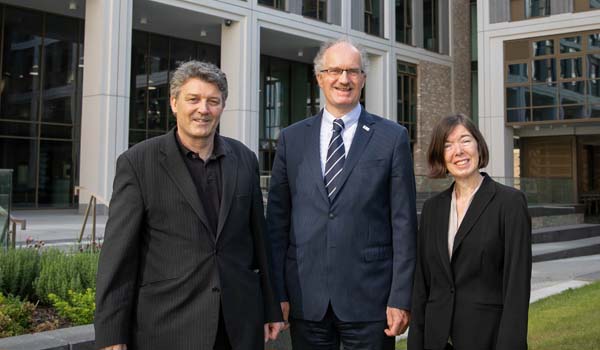 From Sunday, 19 June, to Thursday, 23 June, TU Dublin hosted the 12th International Conference on Clinical Spectroscopy in the Central Quad on the University's Grangegorman Campus.
The conference was chaired by Dr Aidan Meade (School of Physics and Optometric and Clinical Sciences), and co-chaired by Prof. Fiona Lyng (Manager, Radiation and Environmental Science Centre (RESC)) and Prof Hugh J. Byrne (Head, FOCAS Research Institute). President of TU Dublin, Prof. David FitzPatrick opened the event, welcoming the delegates to TU Dublin, outlining its history and origins and strategic visions for the future.
The SPEC2022 conference was the largest international conference to take place in Central Quad since its opening in June 2021 and was a truly all-Ireland event, the local organising committee having representation from five Universities across the island of Ireland. Prof. Steven Bell, Queens University Belfast, Dr Syed Tofail, University Of Limerick, Dr Bryan Hennelly and Dr Katarina Domijan, Maynooth University, Prof. Stefan Andersson Engels and Dr Rekha Gautam, Tyndall National Institute, Dr Rubina Shaikh, Technological University Dublin.
Clinical Spectroscopy at TU Dublin has a long history, extending back to the foundation of the FOCAS Research Institute in 2000 and, together with the members of the RESC, we have been involved throughout the evolution of the discipline from the foundation of EU Framework actions including DASIM and Raman4Clinics, the foundation of the International Society, CLIRSPEC in 2015 and the organisation of previous SPEC conferences in 2010 in Manchester and 2014 in Krakow.
SPEC2022 brought together 220 delegates, from academia, industry and the clinical sector, from across 5 continents to discuss the developments in Clinical Infrared and Raman Spectroscopy, and the latest successes in translation to clinical practice to improve patient outcomes. Instrument suppliers and other sponsors promoted their wares through the Exhibition in the Foyer of Central Quad, which ran for the duration of the event. Amongst other sponsors, the CLIRSPEC Society provided registration bursaries for Early Career Researchers, and the UK Royal Society of Chemistry provided awards for best Flash and Poster presentations.