TU Dublin Innovation Partners Pearson Milking Technology and Micron Agritech Win Enterprise Ireland Innovation Arena Awards 2022
TU Dublin Innovation Partners Pearson Milking Technology and Micron Agritech Win Enterprise Ireland Innovation Arena Awards 2022
From machine learning to on-farm automation, the most innovative Irish agritech and agri-engineering products were announced on Monday by Enterprise Ireland CEO Leo Clancy and National Ploughing Association Managing Director Anna May McHugh as winners of the 2022 Enterprise Ireland Innovation Arena Awards.
Showcasing the future of Irish agritech, the Enterprise Ireland Innovation Arena Awards recognises innovative agri-tech and agri-engineering capabilities and new product development in the agriculture sector. A strong theme from this year's Innovation Arena Awards focused on efficiency while contributing to food security and the fight against climate change. This year's overall Innovation Arena Awards winner was TU Dublin Innovation partner and Kildare-based manufacturer of milking parlours and robotic systems, Pearson Milking Technology.
Their new winning invention - 'Bullseye'- provides a real-time Body Condition Scoring (BCS) of dairy cattle based on an automated visual inspection of the fat around the pin bones of the cow. Identifying a cow's BCS during breeding is an important task as it is vital in optimising a farm's milk production. The 'Bullseye' invention drives innovation through automation and delivers benefits to farms as it frees up resources, improves overall outputs and increases efficiencies, contributing to sustained food production and addressing the challenge of labour shortages on farms. Early development of the Bullseye project was supported by a series of joint collaborative projects with the TU Dublin School of Computer Science through an Enterprise Ireland Feasibility Study and Innovation Partnership Project within the context of the CeADAR Technology Centre.
Speaking about Pearson Milking Technology, the Principal Investigator of the initial Feasibility Study, Dr Robert Ross, said, "It was wonderful to see such an innovative and creative enterprise such as Pearson pushing Irish technology at an international level with Bullseye, and I wish the Pearson team every success as they continue to prosper."
Senior Lecturer Dr Bianca Schoen-Phelan, who headed up the Innovation Partnership Project with Pearson Milking Technology, said, "Irish SMEs such as Pearson are at the forefront of innovation in precision farming with this innovative take on Body Conditioning Scoring and were a pleasure to work with. I wish the Pearson team every success for the future."
Pearson Milking Technology's Lee Wilson said, "This was an excellent collaboration with TU Dublin. We engage heavily in R&D to improve our technology for dairy farmers, and the team's expertise in TU Dublin added significant value. For example, our Bullseye automated body condition scoring product involves both IoT and sensor technology. This innovation will make a significant difference to dairy farmers in Ireland, the UK and internationally from both an economic and environmental sustainability perspective as well as from an animal welfare perspective".
The best overall start-up award went to TU Dublin Innovation spin-out Micron Agritech, which provides rapid on-site parasite testing for grazing animals. The company's new invention - 'the Rapid Liver Fluke Test' – allows farmers to easily test livestock for liver fluke on-site through its 'Micron Kit' app, with results delivered in minutes using AI analysis. Infections in livestock by liver fluke are a major economic problem for farmers, reducing yield and leading to significant treatment costs and representing a serious animal welfare issue. Micron Agritech's innovation provides an efficient, reliable solution to this issue, which often goes undetected. In May last year, Micron Agritech was one of two winners of a Welsh hackathon focused on the agritech sector. In December 2020, it raised €500,000 in seed funding from animal health company Bimeda, agritech venture capital fund The Yield Lab Europe and Enterprise Ireland.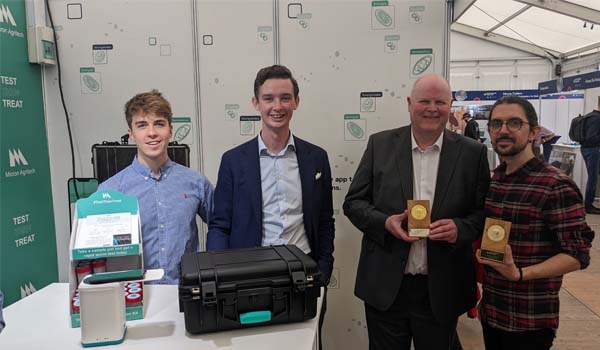 Micron Agritech with Knowledge Transfer and Commercialisation Manager, Kieran O'Connell
Announcing the award winners at the international networking event in the Innovation Arena, Enterprise Ireland CEO Leo Clancy said:
A strong farming heritage and cutting-edge technologies have made Ireland a global centre for agritech quality and innovation. By focusing on greater efficiency across every aspect of modern agriculture, Irish agri-tech businesses are delivering forward-thinking solutions to address some of the industry's greatest challenges and changing demands. The positive impacts that these solutions will have on future global agriculture, particularly concerning environmental, sustainability and digitalisation, are inspiring. These advances are reflected in today's Innovation Arena Awards, which showcase the ingenuity and talent of Irish farm experts, entrepreneurs and businesses on a world stage. Congratulations to all the award winners, and particularly Pearson Milking Technology as this year's overall winner. At Enterprise Ireland, we look forward to working with the winners and finalists as they start, innovate, and scale their businesses, grow exports internationally and create jobs in Ireland.
National Ploughing Association Managing Director, Anna May McHugh, said:
Congratulations to all of the Innovation Arena Award winners, particularly Pearson Milking Technology, as the overall winner this year. This is a remarkable achievement, given the high standard and calibre of entries being showcased this year. We're delighted to collaborate once again with Enterprise Ireland on the Innovation Arena at the National Ploughing Championships, which provides an excellent opportunity for budding entrepreneurs and innovators in the agri-tech and agri-engineering space to showcase their products at Europe's largest outdoor event.
Read more about the Enterprise Ireland Innovation Arena Awards 2022.