Access to Apprenticeship
We are currently taking applications for the Access to Apprenticeship Jan 2022 Programme
The Access to Apprenticeship Programme is delivered by the College of Engineering and Built Environment at TU Dublin.
Access to Apprenticeship (ATA) aims to support the transition of young people (16-24 years old) from disadvantaged backgrounds into an apprenticeship scheme. It is a 12-week full-time programme.
ATA gives you the opportunity to;
Sample a range of apprenticeships in; Construction, Engineering, Electrical, Motor and Aviation industries
Prepare your CV and Interview Skills
Undertake two weeks of work experience
Health & Safety and Safe Pass Certificate
Minimum entry requirements
Aged 16 – 24
Minimum of grade D in 5 subjects in the Junior Certificate or equivalent
Satisfying Access criteria (See page 2 of the application form)
You will find more information about applying to the programme on the Access to Apprenticeship website.
Access to Apprenticeship Graduation and Digital Badge Award
Women in Apprenticeship
A key objective of the Access to Apprenticeship programme is to increase the participation of women in craft apprenticeships. Women make up less than 1% of registered craft apprentices nationally. The Access to Apprenticeship Programme has developed a suit of activities to promote craft apprenticeships to young women:
Women in Apprenticeship Open Day
The Programme has hosted 3 Women in Apprenticeship Open Day's to date, the Open Day is in March to coincide with International Women's Day. The 2019 event was attended by the then Minister for Higher Education, Mary Mitchell O'Connor and included several employer stands, 145 young women attended.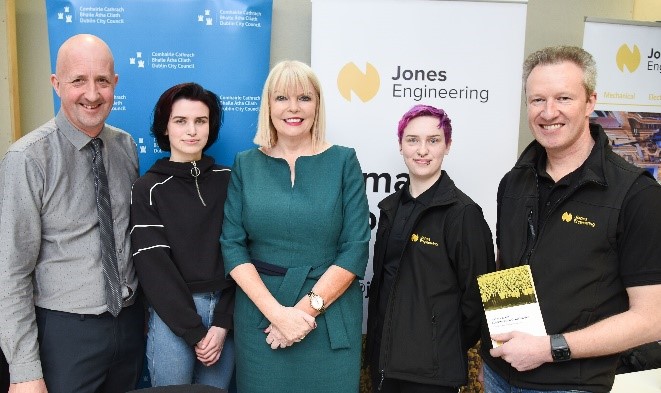 Former Access to Apprenticeship students, Mykie and Mollie Northridge, DCC's and Jones Engineering's first female apprentices at the Women in Apprenticeship Open Day 2019.
'Women Building the Future' Lunches
The lunch supports female apprentices/students to develop their own network of female colleagues, share their experiences in an informal and relaxed environment. The programme held its first Women in Apprenticeship Networking Lunch in November 2019. After the success of the first lunch, the inaugural 'Women Building the Future' Lunch took place on the 24th of January 2020. We are planning to continue to run these lunches as it gives aspiring female apprentices and the female Access to Apprenticeship students an opportunity to develop a peer support group and to share advice and guidance with one another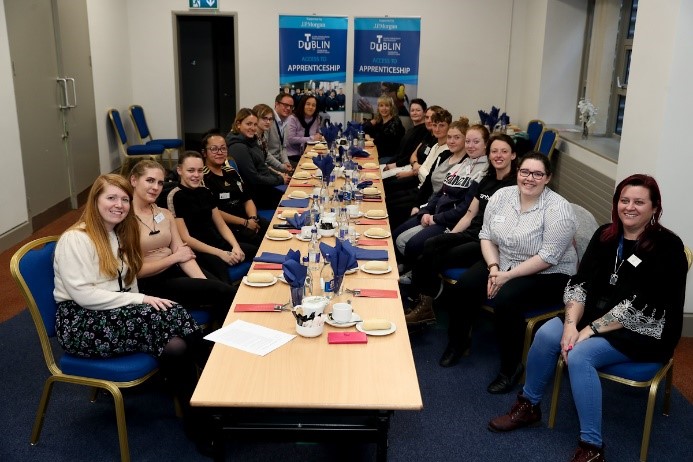 Try a Trade' Day for young women
This event provides interested young woman (between the ages of 16 -24 years old) with an opportunity to 'have a go' at craft based apprenticeships. The 'Try a Trade' event is free. The activities are interactive, informative and offer interested participants access to some of the basic skills needed for craft apprenticeships. If you are interested in participating in our upcoming Try A Trade Day's please complete this Expression of Interest form.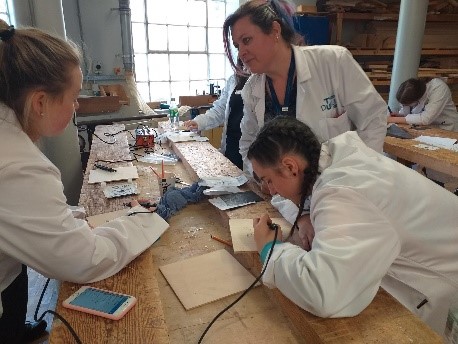 Try a Trade Event Nov 2019 - Woodcraft workshop delivered by TU Dublin Lecturer Jennifer Byrne
If you are interested in any of the above initiatives and would like more information; please email accesstoapprenticeship@TUdublin.ie or ring (01) 402 4042/ (086) 013 6965.